93:20 – 5 Years Later: A look back at Manchester City and the Premier League's greatest moment – City Watch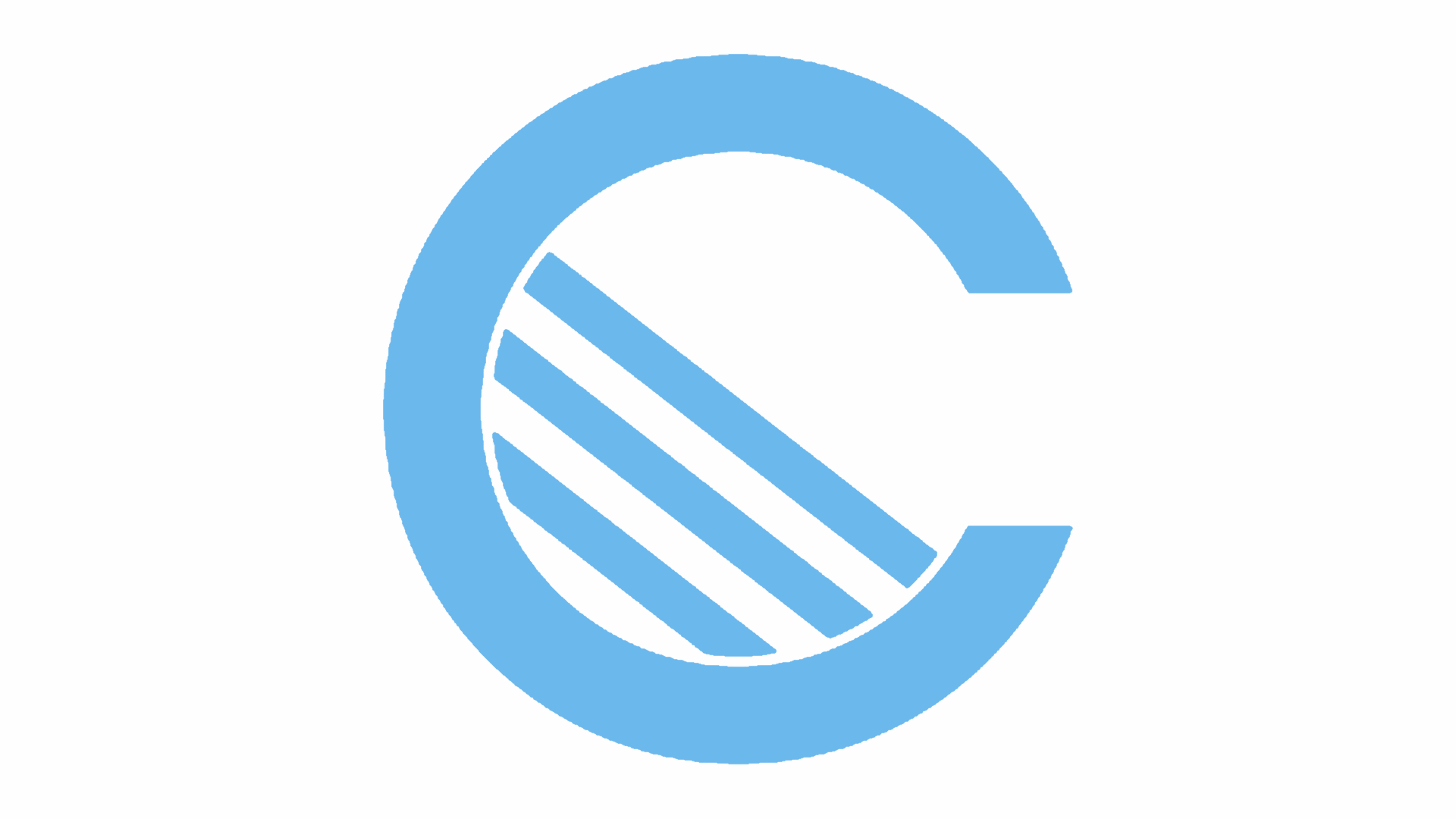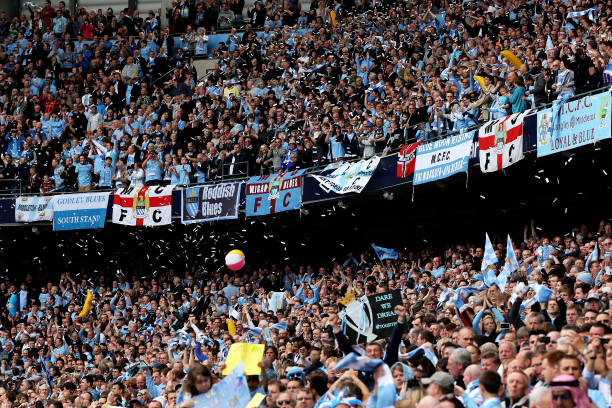 Don't cry because it's over, smile because it happened. On 13th May 2012, 93 minutes and 20 seconds into a game that was supposed to be simple, one hour and thirty minutes that separated us and our first ever Premier League title, Manchester City supporters found themselves crying because it happened, crying because it almost didn't happen, and crying because they'd never see anything like it ever again.
"Today was the day, a day I had only ever dreamed about and a day that I never thought I would actually get to see. The wait for kick off was anxious, as every minute passed my heart pounded more and more. I couldn't eat, my Dad offered me breakfast but I refused — the butterflies in the pit of my stomach were too overwhelming for a bacon butty. So, me, my Dad and my stepbrother gathered round the television in anticipation — thinking the endless build-up would never in fact cease."
You see none of us had given any consideration to the game itself. Football is made up of passes, dribbles, fouls, one-handed saves, corners, offsides, shots but they became a blur on that Sunday afternoon. There was a starting point and a finish line, just time in between the two. Today was the day. It was going to happen.
The flags came out. Sky blue jerseys pulled over heads and bottles of lager popped open. In a student flat in Bangor five chairs crowded around a laptop screen. Downstairs in the common room the United lot crammed in front of big TV – they've always had it their way. Three flights of stairs separated the two rooms but you could hear everything.
My Dad was watching in Peru. My best mate in Birmingham. My Mum back home in Manchester, just five miles away from where a party atmosphere began to rock the Etihad Stadium.
"Kick off finally arrived, the scenes were beautiful, the party had already started. 44 years of heartbreak were about to come to an abrupt end. But, as I and everyone knew, this is City we're talking about and nothing comes easy."
38 minutes in Pablo Zabaleta scores. Another beer open. It's relief more than anything, because inside every City fan's head lurks the fear of the worst, even in a ground we'd made a fortress that season, even against the poorest away side in the division. Kick on now, lads. Kick on.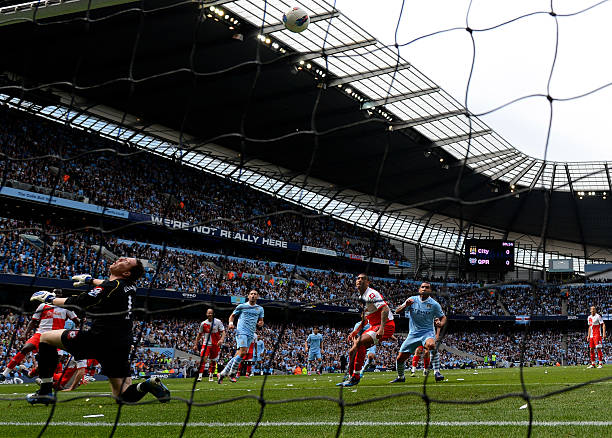 Two minutes into the second half Djibril Cissé equalises for QPR. There's a short explosion as the ball hits the back of the net. I remember the sound clearly, it's a sort of pop like a shoulder coming out of its socket, like a tyre bursting, like a bullet making contact with skin. Bang, silence, then the away end erupts. The camera focuses on Joleon Lescott and you can almost see his heart sinking into his arse. He's scared. So am I.
Joey Barton gets himself sent off but City look shell-shocked. This was supposed to be simple. QPR are down to ten men, they've got nothing to lose, and now City are under even more pressure to get the three points. If they don't, Manchester United win the title.
QPR break and Jamie Mackie heads into the back of the net. City are now just 25 minutes away from the ultimate humiliation. This is really happening.
I sit rooted to my chair, my eyes locked in disbelief. I'm angry, I'm upset, but I'm also laughing at the inevitability of it all. Next to me are two neutral guys that would ordinarily take the piss out of such a cock up, but even they can sense that this is different. The room falls quiet.
"I had a Sunday League game at 10am the morning of that day, and we came from behind to win 3-2. Admittedly, all that rested on this was the bragging rights over a morning kick-about in the park, but when my dad turned to me and said 'lightning may have to strike twice in terms of a comeback', I believed. I'm not sure many other City fans believed, I'm not sure even the players believed."
With 90 minutes on the clock all belief had been drained from the stadium. There were tears, grown men smashing their seats in frustration and people heading for the exits. This was just too much to take. All hope gone.
"Until Dzeko headed in a small beacon of hope, 2–2." Nothing was going to piss me off more than that. A goal in the 91st minute? Are you having a laugh? What a way to rub salt into the wounds, you absolute f***ing dicks.
But we believed.
"Hope was restored, there was still time after-all, but it needed to be now. Shaun Wright-Phillips tried to clear the ball, I booed. Never thought I'd do that to one of my former heroes, but this is a special case. Lescott headed the resulting throw in to Nigel De Jong who dribbled up field looking for an option. I'd never seen so much urgency. Balotelli receives the ball falling to the ground."
"There were cries of "Go on! Hit it", the Etihad was silenced for a mini-second, before pure delirium."
Silence.
"Balotelli, AGUUUERRROOOOOOOOOOOO."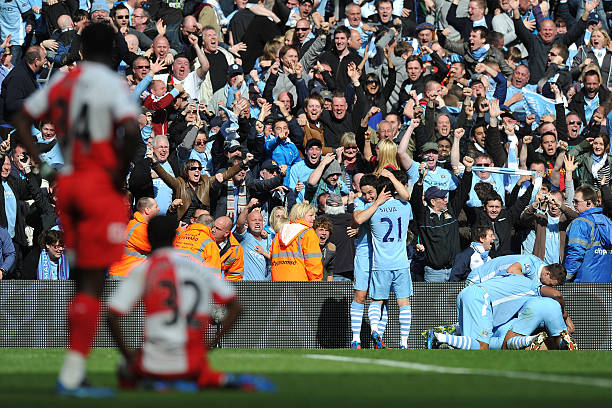 I swear we'll never see anything like this ever again. I sprint into the hallway, my friend follows in a maniacal fit of euphoria, flailing arms, screaming, tears. I catch my breath and realise I'm cut. No idea. Was he offside? Was there a handball? It's pure adrenaline. The neutrals sat in the corner sit frozen in bewilderment.
"United thought the league was theirs, and with just one moment of intent from Aguero, dreams were restored on the blue half of Manchester and hearts were broken on the red side. It was a footballing, last minute fairy tale that no writer could ever conjure in Hollywood. As I burst into tears and watched thousands of blues storm the Etihad pitch, the clock countdown from 44 year since we last won a title and my vision of Kompany lifting the Premier League trophy coming to life; I knew that, in the words of Martin Tyler, I would never see anything like this ever again."