Manchester City have made elite signings but will Alexis or Mbappé be the cherry on top? – City Watch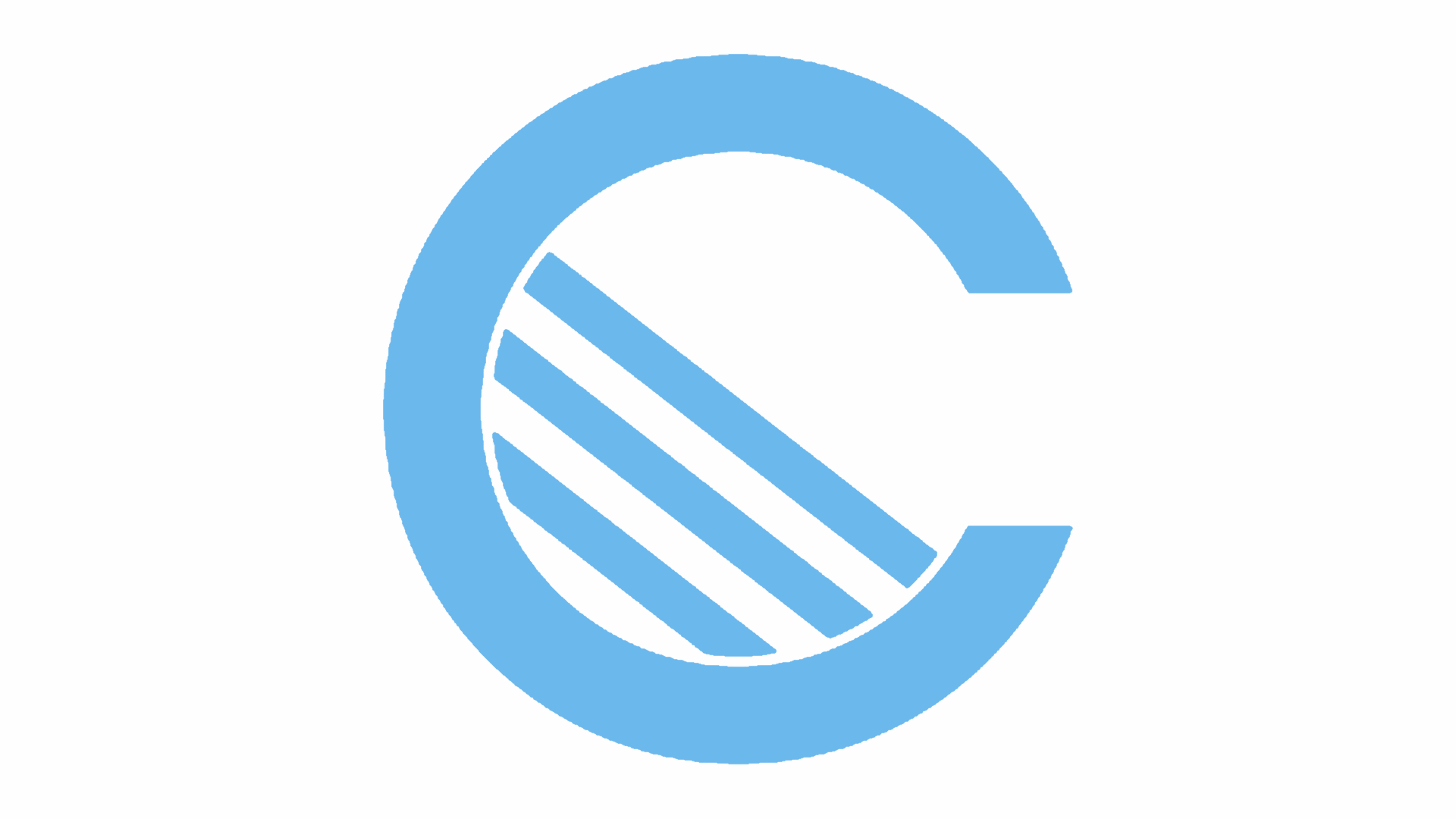 It has been quite a summer at Manchester City, hasn't it? Over £200million has been invested to replenish a squad that grew stale and old after much success between 2011 and 2014, and heading into the 2017-18 season it is looking fresh and arguably better than ever before.
There are still one or two flaws though, something the boss himself admitted following the thrashing of West Ham in Iceland. "I think we need someone else, something else, a little bit more," Pep Guardiola said, and there is a feeling that City could pull off one more mega-deal this before the window slams shut.
So where are the Blues at a week before the new season? Let's have a look.
Between the sticks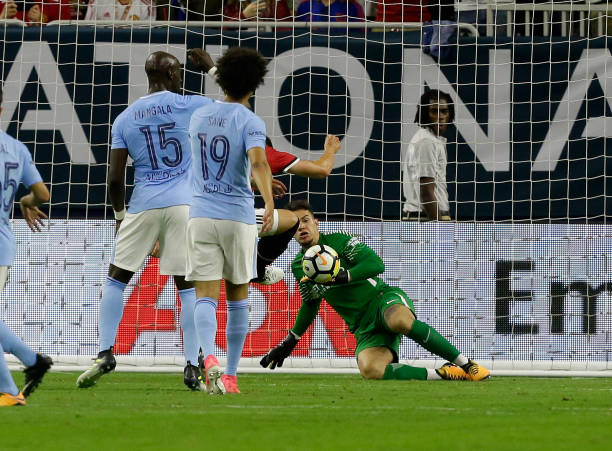 In Ederson Moraes, Guardiola may finally have the ideal goalkeeper for his philosophy after a false start with Claudio Bravo, who can certainly pass the ball, but struggled with other necessities in his debut year at the Etihad – such as keeping the football out of the goal. He's only 23 but Ederson oozes confidence and authority in the box, impressive with his hands and feet.
Claudio Bravo is not known to enjoy sitting on the bench, hence his decision to quit Barcelona last year when it became apparent that Marc-André ter Stegen would be the new number one. But the Chilean is determined to battle Ederson for a place in goal, and this is why City haven't signed a second goalkeeper.
There haven't been a shortage of rumours and the father of Gerónimo Rulli confirmed that City had tried to use their buy-back option on the Argentine goalkeeper, but he didn't want to be the cup 'keeper in a World Cup year. More recently, veteran Pepe Reina of Napoli was tipped to join by some good sources including Gianluca Di Marzio, but Pep ruled out the move. It seems likely that City were open to the idea of two new goalkeepers, but only if a club came in with a good offer for Bravo.
At the back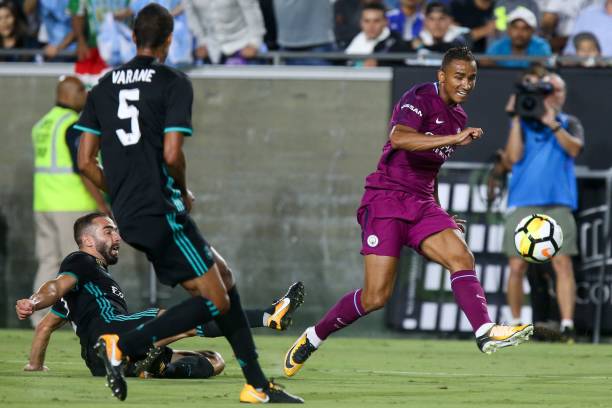 Most of of Pep Guardiola's investment this summer has gone into strengthening City's faulty back line, particularly the full-back positions. How Txiki Begiristain allowed it to get to the stage where this was necessary has bewildered many Blues, and ideally there would have been at least two young, fresh full-backs already in place by the time Pep arrived. Instead, he was left with Kolarov, Clichy, Zabaleta and Sagna, who were simply not good enough last year and a major reason behind City's disappointing year.
But with the signings of Kyle Walker, Benjamin Mendy and Danilo, City now have quite possibly the best collection of full-backs in the Premier League. Up there with the very best in Europe, one could argue. Pep might still want another left-back to complete the set, but Dani Alves' betrayal of his former boss forced a change in plans. Alves would have arrived for free, allowing City to invest £20million-plus in Southampton's Ryan Bertrand, but instead City have signed the multifunctional Danilo, a victim of derision at Real Madrid, yet one of City's outstanding performers in pre-season. Danilo can play left or right-back, and that means Pep will settle on three natural full-backs this year.
The centre of defence remains a cause for concern. On paper, Vincent Kompany, John Stones, Nicolás Otamendi and Tosin Adarabioyo sounds alright, but is it good enough to win the Champions League? And are we going to risk the season on Kompany's fitness, bearing in mind how little confidence the Stones and Otamendi partnership inspired last season?
City are actively in the market for a central defender, but the suggestions are that it will be one to add strength in depth, rather than a Leonardo Bonucci (Pep's dream, now an AC Milan player) or Virgil van Dijk (rated at £50million-plus by Southampton). The bulk of what's left of City's budget seems to be allocated to the world class attacking player Pep wants, so what are his options? Who represents value for money and is good enough to play for Man City?
Two possible acquisitions now out of the question are the Real Sociedad defender Iñigo Martínez, who Barcelona are poised to spend part of the €222million they got for Neymar on, and Holger Badstuber, the talented but injury prone Germany defender who has joined VfB Stuttgart.
This means that unlike almost all of City's targets this summer, we're left clueless as to who the centre-back signing could be. Some think it would be wise to scrap the idea and give Eliaquim Mangala another go, but the information from the press is that the Frenchman is still up for sale and not fancied by Pep.
The latest name linked is Ben Gibson of Middlesbrough, 24 years old and recently called up by England. West Brom have already had a £20million bid turned away for a player who surely would fancy a move back to the Premier League. Two things that may appeal to Pep are Gibson's decent pass success rate (84.6% last season) and the fact he is left-footed, thus meaning he could fill the void left by Kolarov. He'd also be classified as home-grown, which is something worth considering when Iheanacho and Clichy are gone, with Delph to follow.
Other than that, and considering City are looking for a budget option, it's really hard to think who we could get. With Stones and Tosin on the books, you'd think Pep will avoid a young prospect such as Jonathan Tah and perhaps instead look for an experienced player like the 30-year-old Italy defender Davide Astori. A great signing would be Toby Alderweireld, rumoured to be on City's radar and who has admitted to there being "zero progress" on a new deal at Tottenham, but like Van Dijk, he would cost too much this summer.
On the first day of June, Cadena COPE reported that Atletico Madrid have agreed to sell Lucas Hernández to City in 2018 when their transfer ban is lifted. That's an easy-to-forget story, but if true – and the source is usually very good – might explain the lack of investment in the position in the current transfer window.
The middle of the pitch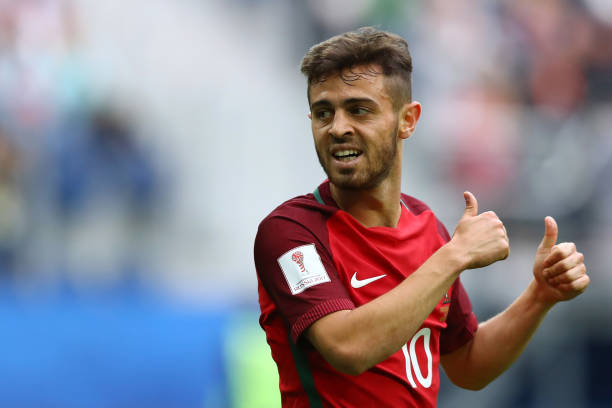 City are blessed with attacking midfielders and 'free 8s', but the holding role is one where many believe a successor must be found. Yaya Touré remains an outstanding player but at the age of 34, there is a risk of becoming over reliant on his skill set, much like City were on David Silva last year – that particular problem now solved with the arrival of Bernardo Silva. Fernandinho can play the holding role well enough, but has lost something in the last year or so, and it is being suggested that İlkay Gündoğan will soon occupy a deeper role.
The idea of an enforcer in front of the defence gives fans comfort, but I'm not sure Pep wants a classic workhorse in that role. He wants a conductor, someone who can and will tackle but who has exceptional ball-playing ability. The popular name among City fans is Julian Weigl of Borussia Dortmund and should he recover well from a broken ankle and have a good season, he could be one of next summer's big targets.
A commonly linked name for the Yaya Touré role has been William Carvalho of Sporting CP, a player linked with everyone, everywhere, every transfer window. What seems to give the City link some plausibility is the fact he is represented by Pere Guardiola, Pep's older brother and a man well involved with the City Football Group – he is a big part of the Girona FC tie-up. That would make William seemingly easy to sign, but the relentless reports from Portugal that he is high on Pep's wish-list appear, at this point, to be more fiction than reality.
A signing who is easy to forget is Douglas Luiz, the 19-year-old midfielder City paid £10.7million to acquire from Vasco da Gama. He is on loan at Girona, but I don't see such an investment being one of those buy-to-profit deals, and think City may have hopes for the Brazil under-20 international. Could he be the one they see as a Touré successor? When I interviewed Paulo Freitas about him, he described Douglas as "a 'segundo volante' (a defensive midfielder who is also in charge of more attacking duties)". Sound familiar?
And in attack…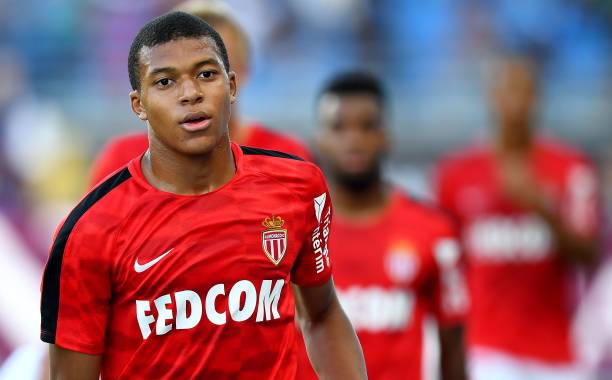 This is where it gets really interesting. City are in for an elite attacker and no matter how many times we hear the "We have Kun and Gabriel Jesus, it's enough!" line, that clearly isn't something Pep agrees with. And he may have a point as City were incredibly wasteful at times last season, in moments that could have positively altered the course of Pep's debut campaign. De Bruyne's miss against Chelsea, anyone?
Add in that Kelechi Iheanacho has been allowed to leave and City must be confident of bringing a new goal scorer in. Pep wants more goals, not fewer, than last year, and the sale of Kelechi can surely only mean one thing.
The two hot names are Alexis Sanchez and Kylian Mbappé. It's both exciting and frustrating that we currently have no idea which of the two, if either, City will sign. Alexis has been a primary target all summer, but Arsenal no longer have a stadium to pay off and are not the soft touch they used to be in the market. That doesn't make a deal for Alexis impossible, but very difficult with Arsene Wenger in one of his stubborn moods and refusing to sanction a sale to a domestic rival.
In recent days the Mbappé chatter has grown louder, and if you look at it logically, the stars seem to be aligning for City to pull off a momentous deal here. Jamie Jackson of The Guardian is saying Real Madrid will not go for the teenager this summer, and have assured Gareth Bale (the rumoured sacrifice) of this. Supposing this is true, it eliminates City's main competition, with PSG signing Neymar and unlikely to sign Mbappé without falling foul of FFP, and Barcelona reportedly getting close to Ousmane Dembélé.
So what is there to stop City from landing Mbappé here? Firstly, the Real Madrid story could be just that, a story, and they may still have eyes on making Mbappé their latest Galactico. And an obstacle that can't be ignored is the sheer cost involved, with Monaco wanting a staggering €180million – that's £162.5million going off today's exchange rates. City are rich, very rich, but may see that price-tag as too much and also have to keep FFP in mind when spending so much.
It would be disappointing if City landed neither Alexis or Mbappé after all the hype and speculation, but given the complexities involved with both deals, it isn't out of the question. Were that to happen, Pep's next move would be intriguing. Would he reallocate the funds to a centre-back, perhaps Van Dijk? Or does he have a back-up plan in mind? Ousmane Dembélé was one mentioned earlier in the window, but he looks Barça-bound. His teammate, Pierre-Emerick Aubameyang, is known to have an admirer in Guardiola, but will it be too late by then? BVB surely wouldn't be open to losing Dembélé and Auba in the same window.
So long, farewell, auf wiedersehen, adieu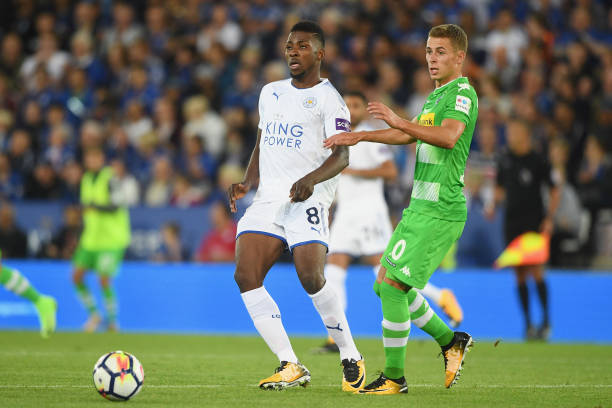 City have been selling pretty well this summer, which is not something you often hear. Combining permanent transfers and loan fees, the Blues have brought in over £70million so far, and a few more are currently situated in the Etihad departure lounge.
Kelechi Iheanacho has been sold for £25million, which may be City's largest ever profit on a player, while the club also fetched an impressive £12million for Enes Ünal, who joined Villarreal. Aaron Mooy (£8million), Nolito (£7.9million), Aleksandar Kolarov (£5.25million), Fernando (£4.75million), Olivier Ntcham (£4.5million) and Rubén Sobrino (£1.75million) are the other known sales, while Bruno Zuculini joined Hellas Verona, but while not disclosed, that may have been a free transfer.
City also brought in a loan fee for Joe Hart, thought to be around £4.5million, but much of that will go to paying the chunk of his wages they have agreed to cover. Wilfried Bony (Swansea or Marseille), Fabian Delph (Stoke) and Jason Denayer (Galatasaray) could potentially bring in over £30million in total if deals to interested clubs are completed.
And then there are Samir Nasri and Eliaquim Mangala, two high-profile footballers but difficult to shift permanently. Nasri earns an enormous salary and despite his talent, there are forever questions about his attitude, making him a risky and expensive investment at the age of 30. It remains to be seen if City can find a buyer for him, one willing to take on his wages. Mangala could yet stay if City don't find a suitable centre-back, but there is a will to sell him and he has already rejected a move to Spartak Moscow. The hope would be to recoup over £15million for a player who, pound for pound, has been one of the worst signings in Manchester City history.
Patrick Roberts is wanted by a host of clubs and Oleksandr Zinchenko, who looks a talent despite a disappointing loan spell at PSV, is subject to heavy interest from Napoli. City have to decide here whether to keep them (both are U21s so do not need to go on the 25-man Premier League squad list), loan them out, or cash in on them with buy-back clauses.
When respecting Financial Fair Play, it isn't just transfer fees that have to be considered, but also the wage bill. And City's huge investment this summer was aided by a number of big contracts coming to an end. The veteran quintet of Willy Caballero, Pablo Zabaleta, Bacary Sagna, Gaël Clichy and Jesús Navas all left and that must have chopped at least £400,000-a-week off the wage bill, making it easier for City to maneuver in the market. It might surprise some not following the post-City progress of those five players that Sagna is the only one yet to find a club. He turned down a move to Bursaspor in Turkey for family reasons, but it is surely just a matter of time until he is snapped up.