I am likely to spend large parts of next season cursing City's goalkeepers, blaming them for setbacks and being generally moody.  This will mostly be the random, unfair rantings of a footballing peasant, a man unable to tell the difference between a vintage Claret and a bottle of Sainsburys Basics Wine – it does exist and does a great job with the more glutinous areas of our gutters. And for that, I blame Joe Corrigan and to a lesser extent – maybe let him off with a suspended sentence – Tony Coton.
Corrigan was the first City keeper I remember and remains the yardstick of a goalkeeper I am prepared to invest in. He was mine and my Dad's hero and he was brilliant. He wore a very old school green goalie jersey with two buttons below the collar that looked as if it had come from the Salvation Army – but we didn't care and I can tell you for certain that Claudio Bravo and Ederson would instantly improve by 30% if they wore it. They would be even better if the bottle green is teamed with the gloss sky blue shorts and socks City wore at the time. OK – the colour clash may have made our eyes bleed, but as we had more time to adjust to the horror, it was even worse for the opposition.
He was also bloody sensational at stopping goals by any means necessary and a huge physical presence, turning a secure City back line into an excellent one under Tony Book and at other times a slightly dodgy defence into an acceptable rearguard. I mourned his departure in 1983 far more than losing Trevor Francis, objectively a better player and one who would have thrived under Guardiola.
When I was a student, succeeding a number of injury prone, superannuated, not quite good enough or grossly erratic keepers, Coton came along and was a reassuring slab of certainty in City's tumultuous 1990s and my equally dramatic twentysomething years. We could trust almost nothing about City in the early 90s bar Coton's ineffable reliability. He just did his job and didn't make mistakes. I am trying really hard to remember him throwing it in the net – and I just can't. Over 184 games, that's an achievement.
The comparison with his predecessor, Andy Dibble, was huge. Dibble could be inspired but was also only a split second away from idiocy. His defining moment was allowing Gary Crosby of Nottingham Forest to head the ball out of his hand (note the singular) and roll the ball into an unguarded net. For all the massive complaints (mostly from Dibble himself), we all knew it was a legitimate goal, our player had done something stupid and our opponent had cleverly used his initiative. The was no reason for the referee to disallow the goal.
Both Corrigan and Coton were universally considered to be criminally under-rated by the London media and various England coaches. On the former point, there is some truth. Corrigan's performance in the 1981 cup run was rightly praised to the heights but he'd been playing like that for years and no-one had noticed. All the while there was a ridiculous hype about United's Anglo-South African keeper, Gary Bailey, a nice bloke but a frankly rubbish goalie. One of Ferguson's first insights when he joined them in 1986 is that he had to get a proper goalkeeper in fast.
Coton was just so consistently good that no-one bothered to comment. He needed to make the odd ricket to be noticed. He typified the Peter Reid era – when City were just ignored by the media, That's why fanzines and then fan media like City Watch took hold at our club and why – even now – they are so important to us. Not only are we trusted to give a reasoned, intelligent view – we are also trusted to turn up and notice things months or even years before it dawns on the legacy media.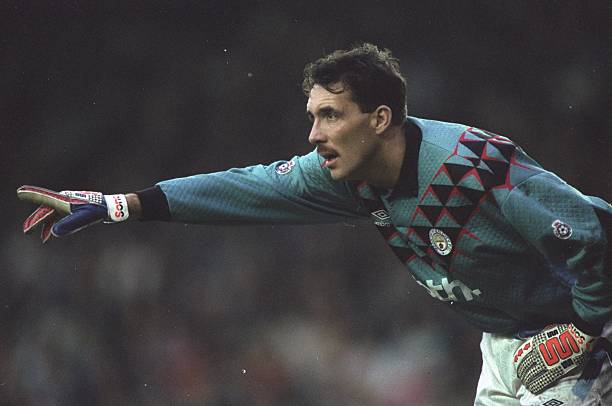 As for England, Corrigan's nine caps do not reflect his ability. He was doubly cursed. He was a direct contemporary of two genuinely world class English keepers, Peter Shilton and Ray Clemence, so he played during the golden age for England in his position. To make things worse, there wasn't really much point giving him the odd game for experience. The whole country concurred that if called upon, Joe would put in his usual unfussy but highly capable performance.
In another age, he would have clocked up north of 50 caps without a problem, but the awful truth is that he was third best in a ridiculously tough heat.
So he's the greatest third choice keeper England have ever had – I am not sure anyone would dispute that – but he was, rightly, third choice.
As for Coton – very good, yes. A level above that, and I hate to admit this as to contemporaries of mine it is on the same level as saying that The Stone Roses is a slightly meh album, possibly not. One cap for England B. Slightly harsh but not world class. A quick PSA to avoid the abusive Twitter mentions – I rate the aforementioned album roughly alongside Silva's pass to Dzeko for the sixth goal at Old Trafford.
To give you a modern comparison, Corrigan was a better keeper than the other Joe that has worn the number 1 shirt for us in recent years – the disparity in England caps tells you everything about falling standards. But to be fair to Hart – who is neither as good nor as bad as many people think, he's an upgrade on Coton and played a major role in both title wins. He is easily a top half of the Premier League standard player.
What Joe and Tony didn't worry themselves with was playing the ball out from the back. Their job was to keep the sodding thing out of the net. It was agreed that long kicks – either goal kicks or the old fashioned booter out of the hand – were contracted parts of the job description and occasionally, at the right time, they would go "continental" and roll the ball out to Ray Ranson, Kenny Clements, Neil Pointon or Michel Vonk. Coton arrived at City after the pass back rule had changed, but don't think that ushered in sudden changes. Coton's reaction to it was typical – being good with your feet at Maine Road meant successfully launching the ball in the general direction of either the University or Didsbury dependent on the goal being defended.
The idea of the "sweeper-keeper" is not new and the justification for it is very simple. If the custodian joins in with play rather than spectating from the penalty spot, thirty yards away from the ball, then an extra player is created. The full backs can either hug the touchline or move into midfield, forcing the whole team nearer the goal and the centre halves can split – making them better able to find the slightly ajar window of the parked bus.
Anyone who played rush goalie in the schoolyard will know what it's like to draw the opposition on to you and either skip past them creating options on all sides or suffer the humiliation of being dispossessed and the opposing striker stopping the ball on the goal line, getting down on his hands and knees and heading the ball over the line. I always wanted Balotelli to do that. Against United. At the Swamp. Risk and reward.
Liverpool used the tactic in the 60s, the Dutch did so famously in the 70s and even Wimbledon bastardised it in the 80s. They had the keeper taking free kicks up to the half way line, reasoning that they were like goal kicks only much closer to the opposition net. A nondescript free kick 60 metres from goal could be turned into a potential goalmouth scramble. It wasn't the beautiful game, but it's not against the rules and it was undeniably tactically intelligent.
So sweeper-keepers are the latest tactical evolution at a club that's never been afraid of them. In the 1950s, we had the Revie Plan, which sounded more complicated than it was. It was a pretty shameless rip-off of how the great Hungary team played and these days we'd call it a false nine. We won the FA Cup with it. If Neuer and Ter Stegen aren't available, Ederson and Claudio Bravo might be the next best of their type. The principle behind Guardiola's preference for a particular style of goalkeeper is neither illogical or very original. But it has to be combined with the great intangible anyone who watched Corrigan or Coton could immediately appreciate.
They need to offer something that can't be captured in the statistics. A supremely secure goalkeeper infuses confidence in the outfield players. They become braver in possession, decisive in defence and less nervous in front of goal in the knowledge that one goal is quite possibly all that will be needed and the guy at the back will take care of the rest.
They've got to meet the yardstick of my childhood. Joe Corrigan is the man against whom all City custodians must be judged. He's not Trautmann – a unique figure and possibly an unfair benchmark given both the passage of time and the emotion attached to the man and his story. But with the resources at City's disposal, Joe's excellence is what we should expect.
But the game has evolved and goalies now need to do everything Corrigan did – and more. Sweeper-keeping has obvious and inherent risks – but the rewards could be seen in that Aguero goal against Hull City in April.
They are the future and it is down to us to reset our expectations about the role. But to help us adjust, I would recommend Pep puts the crowd at ease by insisting on a shapeless, woollen, bottle-green custodian's top with two buttons below the collar – and – heaven forfend – long sleeves. That's a compromise we can all live with.