It had been 22 years since Manchester City had won an away game in the Premier League which they had been losing at half-time. Ironically, the last 10 minutes of that game aged me a further 22 years, culminating in City managing to see out to game and continue their unbelievable win streak, which stands at eighteen consecutive wins in all competitions. It was amongst the hardest of the eighteen games, but I learnt a thing or two.
Raheem Sterling is Actually the Best Player of All Time
Okay, so maybe that isn't totally true. At the end of August, days after he'd scored the 97th minute winner against Bournemouth, I wrote an article about how Raheem Sterling would cement his place in City history. Nothing that has happened since has even remotely come close to proving me wrong – on the contrary, it has become more obviously prophetic. Raheem scored a late winner in the midweek against Feyenoord, and this weekend he was on hand again to finish off Huddersfield. It wasn't a classic goal by any stretch of the most vivid of imaginations, but the very fact he was on hand to apply the finish is just evidence of his growth as a player. What will it take for people, outside of the City bubble, to recognise his awesome talent?
But more to the point, does it really matter? Raheem 'The Dream' Sterling will win the Premier League this season, and what's more, he'll play an absolutely integral role in the title win. Watching him and Leroy is an absolute pleasure at this moment in time, and they are both becoming bona fide stars in their own right. It's beautiful.
Mentalities
At half-time, with City one-nil down, my timeline was swamped with melancholy. People flapping, wondering why this fate had befallen us. Calm voices suggested that it was because this new predicament we're not used to, this thing they call 'losing', was alien to us. Sure enough, City turned it round. This leads me to believe that the City players, who have now picked up a penchant for winning, have begun to grow into what classic, aged City fans would refer to as 'the United mentality'. The belief, the faith, that they will win, no matter the odds.
Will this attitude permeate into the fans any time soon? Probably not. Before home games in the last two years of the Pellegrini era, City used to play a videotape which would end on the line 'We will never, ever give in'. This seems to be the mentality of the players now, who never accept they're beaten. We've not had to come from behind too many times this season, but when we have, we've bounced back with aplomb.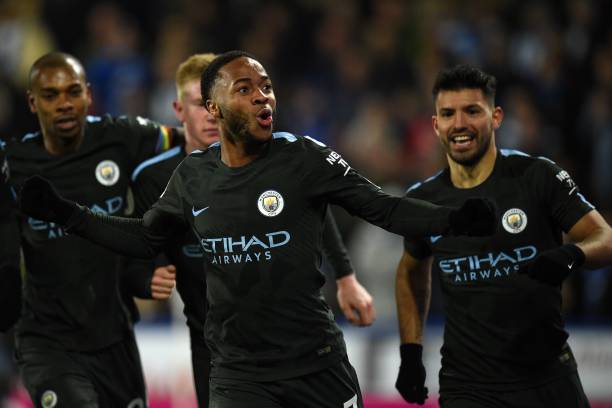 We've Got (du du) GUARDIOLA!
Not even the most delusional Blue, the most fervent Pep Guardiola fan, could have imagined this. It's unbelievable. City and Pep are finding ways to outstand us every single week. Last season was a curious event, which ended with (some) Blues wondering if we'd made the correct choice. Some wondered whether Conte would be a better pick. Yet the summer's dealings, the way in which this season has played out so far, means this could place with one of the best Premier League sides ever come the end of the season. Instead of the 2003/04 Arsenal side being the standard, in 10 years people could talk about the 2017/18 City side which swept away all comers – the Shark Team. Pep has implemented his ideologies into all of his players, whether that be the aforementioned mentality or the tangible game style we play, the style we drooled over when he ruined Alex Ferguson's United in two Champions League finals. We made the right choice, we hired the best manager in world football. We've got (du du) GUARDIOLA!