One of the key facets of transfer windows are its sagas. Sure, everyone loves quick transfers. Bernardo Silva, signed and sealed within a day created a real rush of blood to the head. But would summer be summer without one major 'will he, won't he?' saga?
Over the years City have been involved in a few of these. Names like De Bruyne, Delph, Sterling, Nasri, have all been successful sagas for City, but we've also had our fair share of failed ones: Isco, Kaka, Mido and Laporte spring to mind.
This summer, as our squad undergoes perhaps one of the most radical revolutions of any squad in footballing history, we've had a few mini-transfer epochs. Dani Alves has been the only unsuccessful one thus far and potential drawn-out deals for Mendy and Walker were nipped in the bud by means of stumping up, most likely as a direct result of our failure to sign the former Juventus/now PSG full-back. But now, as we've successfully signed most of our first-choice targets, our attentions must inevitably turn to what will continue to be the biggest saga of City's summer: Alexis Sánchez.
The way I see it, there are potentially four ways this one could end. Some are very likely, some seem like they're almost impossible.
A Move Abroad
In early March of this year, a rally was due to take place in Chile to protest Sánchez playing at Arsenal. Despite the thousands of likes on Facebook, a mere five turned up. The organizers said they didn't want him to play at a team who weren't challenging for silverware, or at least, meaningful silverware. They didn't want him back at Barcelona or to go to Real, they just wanted him to play 'with 10 other players' who would fight 'to get the results'. I suspect Paris Saint-Germain would fit that bill perfectly.
Known admirers of Alexis, it was only a few weeks ago that many in the zeitgeist were convinced both Alexis and Neymar were on the verge of signing for Les Parisiens. That faded quickly, and rumours of him going to Paris, and by extension Munich, have since quickly dissipated. I rate that the chances of Alexis going abroad now as fairly slim given the intense backlash the only other club in the race are facing for buying Neymar, a deal which has smashed the world transfer record. But I'm not so confident to rule it out altogether.
Staying for One More Year
This one would be quite unusual, too. Yet, it was only a few days ago that the Mirror reported that Alexis' agent is pushing for him to stay on at Arsenal with the promise of mega-bucks next summer.
But in reality, who could offer higher wages and the promise of Pep than us next year?
I suppose the competition provided by the likes of renewed interest from PSG and Bayern next summer could force us to offer more, but given that the Mail report City are offering Alexis a move-watering £320k-a-week, I'm not sure how much more he should expect.
On the other hand, though, given our rigorous low-wage, high-bonus structure, it's questionable that City have even offered Sánchez such a high wage. The point has been made that Wenger might not want to keep Sánchez against his wishes, especially since the Frenchman dropped Alexis in March for a season-defining game at Anfield for rowing with his teammates. Why would Wenger risk keeping an Alexis he knows is desperate to leave, for just one more season, costing Arsenal not only the potential fee of £50m but also his wages for the year, and having the potential of an unhappy Alexis being the fuse for dressing room malcontent, all for his pride?
That would then be a question of whether or not Wenger puts his ego before his team. What happens here could be very indicative of the Arsenal manager's long-term plans.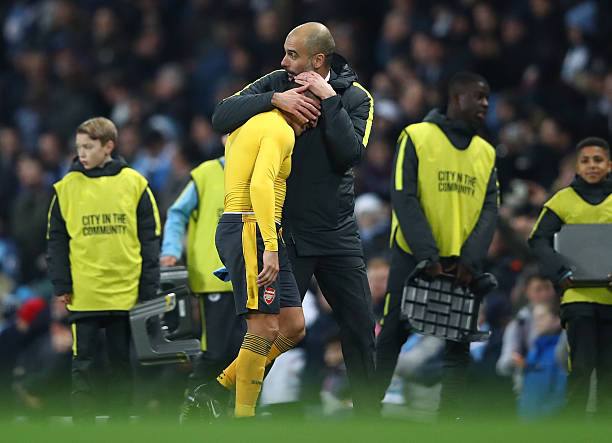 A Move to City
This would be a dream. We've now got both the number 9 and the number 11 spots free, providing there isn't a reshuffle in the next few days. We have his favourite coach, a team which creates much but often lacks a killer instinct, genuine world stars for him to blossom with, top young talents for him to impart wisdom upon… and more. I'd even be tempted to buy an Alexis shirt if that would somehow convince him to force a move.
But, a few days ago when he returned to training, beaming with that beautiful smile of his, people gave up hope on Alexis joining City. These pictures, of course, mean nothing. Leroy Sané was pictured in a similar way just days before his move last summer. City could well wait until closer to the end of the window, after the season has started to make a move, though that wouldn't be ideal.
Kevin De Bruyne famously played a Bundesliga game (in which he was dreadful) before making his move to Manchester. In that instance, it wasn't until mid-August that Wolfsburg Director of Football Klaus Allofs dropped his 'De Bruyne is 99.9% staying' line. So, we're not running out of time just yet, but only time will tell if we make any official move for Alexis.
For now, the ball is still in our court. Arsenal are still chasing Thomas Lemar and if they complete his signing then I expect Arsene to be a little more open to talking. We also have to hope Alexis makes his feelings known. He's already delayed his return to training by being ill but actively handing in a transfer request could help tip the balance towards a move a little further.
A New Contract
If this deal is Lemar-dependant, we look set to fail, as regretfully it seems like Arsenal's chase of the Monaco playmaker, for now at least, will be unsuccessful. In the event that Arsenal give up on Lemar City would presumably want to speed the deal up so that Arsenal have more of an opportunity to spend the millions we'd fork out for Sánchez.
But Wenger seems very defiant. People may point out that he's been defiant about Arsenal players of the past who have left just seconds after Wenger convinced the public they'd be staying, but after the furore he endured at the hands of his own fans last season, Wenger will be keen to avoid another backlash.
Nevertheless, no amount of determination on Wenger's part will convince Sánchez to put pen to paper if he genuinely doesn't want to be at the Emirates, and everything coming from the press suggests he can't wait to leave.