A master at work. A genius. The greatest tactician of them all.
As City fans, we like to heap praise on our manager, Pep Guardiola. He is, after all, one of the world's most respected coaches and we appreciate his pedigree. Feeling the swagger of a world-beater prowling our touchline is, to put it plainly, nice. I can't have been the only one to get a buzz from his ridiculously cool outfit on the opening weekend.
Yet while Guardiola may seem godly in comparison to his distant, flat-capped predecessors, his first season in Manchester wasn't without its shortcomings. The man we lauded as the best has left us with egg well and truly splattered on our faces several times already. A trip to Everton last season was a particularly messy affair.
Despite that, and a few other embarrassing occasions, my faith in the man remains unwavering. He's not stupid. His press conferences thus far have revealed his disappointment at the last campaign and his desire to make this year a success. It may have been a forgettable season for us fans, but I think it was invaluable for Pep. He learnt the hard way that the Premier League is tough.
Too tough, it turns out, for tiki-taka. Stoke, for example, don't take too kindly to party tricks and showboating. There's no other way of putting it – he needs to adapt his style.
It might dent his imperious self-image, but Pep, in my opinion, should take inspiration from successful Premier League tactics rather than successful foreign tactics. All-guns-blazing attacking football may steamroll Osasuna and Leganés for example, but against clever opponents here in England, it leaves you susceptible to the counter attack if you don't put the game to bed.
Where better to look for inspiration then, than last season's champions.
After a 3-0 defeat to Arsenal in September of last year, Chelsea boss Antonio Conte announced controversial plans to switch to an unorthodox 3-4-3 formation. The result, as you may well know, was 13 consecutive victories and, of course, a Premier League title. Basically, it worked. But why?
Quite simply, the idea offers versatility; the ability to switch, almost effortlessly, from an attacking to a defensive set-up. When the team has the ball, the full-backs move forward, leaving three defenders behind. This means each attack, theoretically, has seven players surging forward. When the ball is lost however, the fullbacks drop back to sit alongside the three, resulting in a five-strong defensive wall. In effect, the full-back becomes two players. Clever, right?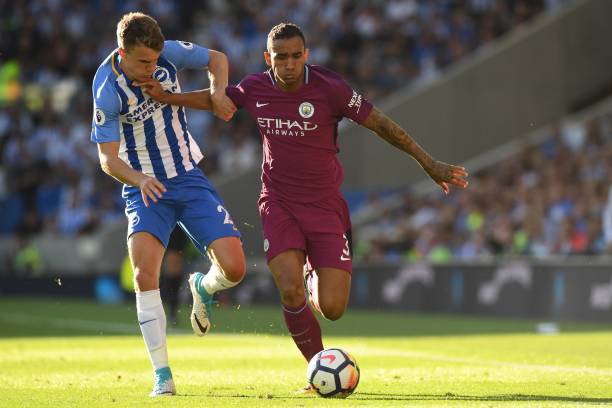 Pep handed the system its competitive debut against Brighton on Saturday, but I can't help feeling it was hindered by early-season rust and, without being too harsh on him, Danilo. The newly-signed Brazilian looked awkward playing out on the left as a naturally right footed player. And, while his versatility will prove invaluable throughout the course of the season, the constant need for him to cut back inside onto his right foot made many opportunities disappear on the South Coast. With Benjamin Mendy, a natural left footer with pace, power and a wicked cross, the left side will become just as potent as the right side – of Kyle Walker and Kevin De Bruyne – was against The Seagulls.
Even after one performance, the days of full-back frustration, at right-back anyway, seem like a distant memory. Pep certainly tugged at the heartstrings as he ruthlessly eliminated the old guard, disposing of cult heroes with a click of his fingers. But, after watching Walker and De Bruyne link up on Saturday, it was clearly the right thing to do. Perhaps our sentimentalities towards our long-serving warriors clouded our judgements, but Pep had the courage to stand up against our adoration, and for that, I tip my hat. After all, the full-back pairing of Benjamin Mendy and Kyle Walker is undeniably a significant upgrade on Gael Clichy and Pablo Zabaleta.
Refreshingly direct and positive, our new full-backs rampaged up and down the line last year for their respective clubs and it's quite thrilling to imagine them doing the same in Blue. To make this bombardment of the flanks as destructive as it should be in Manchester, a three-defender formation with wingbacks is the only way to go.
Moreover, while these guys are causing all sorts of problems out wide, they drag defenders with them, freeing up space in the middle. And who do we have waiting there? Kevin De Bruyne, David Silva, Yaya Touré, or Bernardo Silva. Magicians, with plenty of time and space on the ball. Bursting runs on either flank from full-back or winger. Movement up front from Gabriel Jesus and Sergio Agüero. It only points to one thing. Chances.
Let's start taking them now lads.
Defensively speaking, however, it must be said that the system leaves the centre-backs very much in the spotlight. If you thought John Stones couldn't catch a break last season, just wait for this year. His every move will, no doubt, be scrutinised. Even so, I'm confident he'll succeed in his slightly adapted role.
The extra space up ahead of him created by the marauding wing-backs allows for Stones to step into the midfield, where he can spray passes about the pitch. Nicolás Otamendi, while often too ambitious with his passing, will look to do the same. It has the potential to confuse and overwhelm the opposition, as the holding midfielders and 'attacking defenders', if you like, rotate.
The only quibble I have is when the back three, bereft of full-back support, are exposed. But, three isolated centre-backs is better than two. With Vincent Kompany towering in amongst the three, I'm calmer. But here comes the obligatory statement when talking about our captain: That's if he stays fit.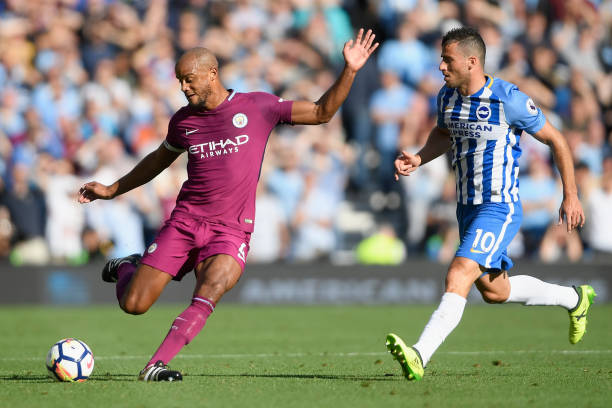 So, in theory, it's a great idea. I certainly can't see many flaws to the system, apart from potential centre-back injuries and a headache for Pep as he tries to fit all of the attacking quality he has at his disposal into fewer attacking positions. But that, I would argue, is not a bad problem to have at all.
Furthermore, not that I really care, but the system will give our defenders the chance to shut the social-media money whingers up once and for all. Kyle Walker has been vilified since he joined us for £50 million, but the lack of such furore surrounding Romelu Lukaku's transfer is baffling, particularly when he joined our neighbours for almost double that figure, with the general consensus being that he can "justify" his mega-fee. So, unless our sceptics are just horrendously riddled with bias, I see no reason why the Manchester City defender agenda won't be silenced with goals, assists and clean sheets from our newest acquisitions.
The only question that remains is how often Pep will use the system. Pre-season, with 10 goals scored and two conceded, suggests it should be the go-to formation. But that's pre-season.
Pep's tactical astuteness means that he has no doubt drilled his team to follow multiple formations, which he'll look to use interchangeably. During games, don't be surprised to see seemingly nonsensical substitutions to allow for formation shifts. He'll look to confuse and perplex. Against the teams we expect to beat, shape-shifting should do just that. Against the teams we expect to battle, it should reduce the risk of a thrashing.
For me then, it's a no-brainer. A system that increases our attacking potency while also stabilising our back line? Where do I sign?
Now, however, the question is which three at the back formation to use. 3-5-2? 3-4-3? 3-6-1? That's a discussion for another time.