August 11th, 2014 – Eliaquim Mangala puts pen to paper at the Etihad securing a £42million move from Portuguese giants FC Porto. At this time, Blues throughout the country were crying out for a young, fresh centre-half with a gleaming reputation. A reliant sweeper trusted with superior athleticism to Martin Demichelis and Joleon Lescott, an adequate partner for captain Vincent Kompany.
After Lescott's departure to West Bromwich Albion, we seemed to have got just that in the form of the 6ft 2inch Frenchman who was admired for his commanding performances in the Primeira Liga. His debut was a satisfying one. Mangala had Diego Costa in the back of his pocket and City looked to have spent their money well. Was this the start of a prosperous partnership between himself and Kompany?
In short, no. There was another side to the centre-half, a much less composed one and Mangala went on to score an own goal in his next game against Hull City. Two years later, performing inconsistently and considered a flop, the once promised stalwart found himself on the fringe of new boss Pep Guardiola's plans. Since then, a loan spell at Valencia has sufficed somewhat in keeping Mangala a mildly attractive coup in today's inflated transfer market.
Lyon already attempted to sign the 26-year-old in June but the move fell short as they were unconvinced by City's £18million asking price. Now, Inter Milan and Stoke City appear to be keen, with rumours suggesting the latter have made a cash offer. It is believed however that Mangala isn't a fan of Staffordshire.
A move away, sooner or later, is a formality and City will look to use any fee they receive to put towards a bid for West Brom's Jonny Evans. The Northern Irishman has been heavily linked with the blues in the last two days, dividing opinion among fans.
Like many, this move makes me sceptical, I remember booing Jonny Evans during his comeuppance at Manchester United – all the while contemplating how such an average centre-half got so much game time whilst not boasting any stand out attributes.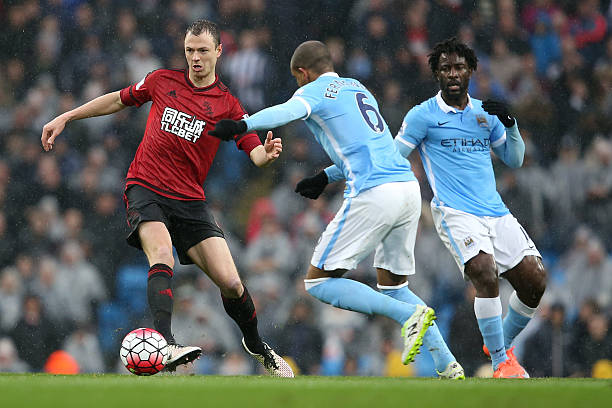 Admitting my bias at the time, it's clear Evans' stint at West Bromwich Albion has seemingly boosted his reputation. Now, I hear phrases such as: reliable, solid, comfortable on the ball – but only in the past two days when rumours about a move to City started to circulate.
£18million was rejected by the Baggies in a City bid for Evans, and now the fee could rise up to £25million. Whilst this seems irrelevant in an inflated market, his age leaves little to no sell on value in the long run – so why depart with a younger, more athletic centre-half in favour of this move?
Yes, Mangala is a flop – writers in the City Watch team have described him as pound for pound the worst signing in the blues' Premier League history. But if Jonny Evans' transfer halts, redemption could be on the cards as Guardiola's only natural back up centre half.
Whilst this seems like a daunting prospect, he is still relatively young – we have seen his natural ability shine through on occasion: Chelsea at home in 14/15 and 15/16 bullying Costa, plus solid performances in the Champions League Semi-Final run – even one where he kept Ibrahimovic quiet at home to PSG.
Bearing this in mind, begrudgingly, Mangala could prove a capable back up if any of the main three (Kompany, Stones, Otamendi) have to sit out a few matches. Our plethora of brand new full-backs – including a versatile Danilo – could easily fill the void if a serious injury were to occur on the back three anyway. Switching to four across the defence seems like the most likely solution, demoting the wing-back formation in favour of defensive solidarity.
Because of this, Mangala could still have a role to play – as City's plan B defensive cover. Surely a much more safe prospect than spending £25million to secure the services of Jonny Evans, who is more or less in the same league in terms of potential ability – the only difference being Evans is more comfortable on the ball. Why replace fire with fire? And youth with season?