At the age of five, Raheem Sterling moved from his birthplace, Jamaica, to London. At the age of just nine, Raheem's father was shot dead in Jamaica. At age seventeen, he made his Premier League and England national team debut. At nineteen, Raheem played a pivotal role in a Liverpool side that would just miss out on the Premier League title, and shortly after his twentieth birthday won the Golden Boy award. In the following summer, he became the most expensive English player ever, and thus began his volte-face from the young hope of the nation to Public Enemy Number One. But that's old news now – Raheem Sterling is overcoming it all.
In his first season, let alone the incessant abuse he got at the time, the aftershocks of his fractious move from Liverpool are still being felt, such was the ferocity of the reverberations. Sterling-specific booing around the grounds, every ground. Why were fans of other clubs, who were neither Liverpool nor Everton, booing Sterling? It's a question that has been answered in many ways, and by now we all understand its insidious roots, if we didn't already.
It even spread its infectious tentacles into the City faithful. I believe, without particular empirical evidence it has to be said, that Sterling got a significantly harsher ride than other players, and that continues even now. Sterling's signing was often juxtaposed with Kevin De Bruyne, who's Champions League charge was the light of a particularly drab campaign. Why couldn't 21-year-old Sterling, with the hatred of a signifcant section of the nation resting on his shoulders, perform as the established, matured star De Bruyne had done?
But people tend to forget that in his first season, Sterling excelled in the Champions League. He put Borussia Mönchengladbach, Sevilla and then Dynamo Kiev to the sword and was included in the Team of the Group Stage. But the stats showed he only scored six league goals and hit two assists, and therefore he was declared a flop, written off and laughed at, placed in the dustbin of history. All in his early twenties. His poor performance at Euro 2016, which itself was most likely down to recent injury, meant that the booing would continue for some time. Interesting how Raheem, who was definitely not the worst player at the Euros for England, was the only player to receive the full wrath of the footballing public.
Despite the continued abuse, it was last season when Raheem came into his own. He ended the season with 15 assists and 10 goals, elite levels. But he is more than stats. He looked brilliant. Within four minutes of the 2016/17 campaign, his newly found incisiveness won City a penalty. By the end of August he'd won the Premier League Player of the Month. Suddenly the boos began to recede. He began to look significantly more confident, and rather than being designated as the wide-man in Pellegrini's beige 4-4-2 system, he was able to become a fluid pawn in Pep's systems. He continued to perform in the Champions League; one of the stars in that glittery night against Monaco at the Etihad.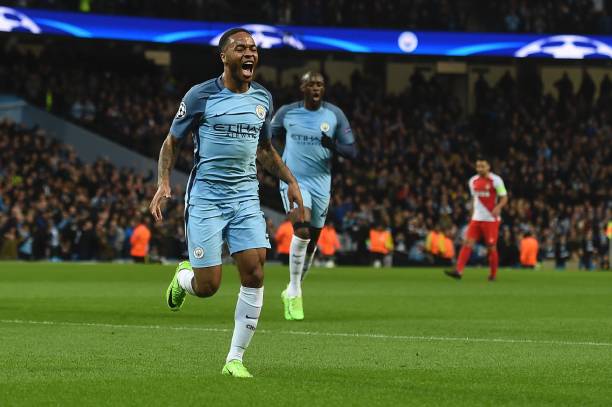 In his two years at the club, Raheem has won only the League Cup – more than Liverpool have in that time, but you'd expect more is to come from City over the next few years. Individually though, he's developed his game. When Romelu Lukaku signed for United this summer, detractors mocked his first touch. When Raheem Sterling signed for City, he 'couldn't finish'. Yet, as some of the quality of his goals have shown, this is a blatant untruth. For instance, his second goal against Mönchengladbach, his hat-trick against Bournemouth, his deft tap in for his second against West Ham, as well my personal goals of last season at the Liberty against Swansea and at the Etihad against Arsenal, both of which showed unbelievable self-belief.
This season he's started just one of the first three games, yet he's already rescued us three points – two against Bournemouth and one against Everton. City looked almost bereft of ideas before he came on for the second half of the Everton game, and though he missed a few chances, his persistence would be rewarded. On 82 minutes, Raheem unleashed a PING which shot dead all the remaining ideas that he couldn't finish. Saturday's goal too was evidence of his persistence. Though he had not had his best game by any stretch of the imagination, after 97 minutes Sterling was in the box and on hand to finish.
The celebration after it, and the embarrassing furore it has caused, is a mere footnote here. I see the jubilant celebrations as a big f*** you to everyone who has ever criticised Raheem unfairly, which is probably most football fans in the country. To come back from this torrent of abuse, from every story about his infant daughter to every story about him spending too much or too little of his own money by flying with EasyJet or buying flash, but dirty, cars, from every piece of racist abuse, to every death threat. Raheem Sterling is overcoming it all and for that he will cement his place in this club's, and footballing, history.
From a playing perspective, what's scary is that there is more to come. His next birthday is his 23rd, which means he hasn't even fully matured yet – not even close. If he's already one of the shining lights in this team, how far can this guy go? With Leroy Sané and Gabby Jesus on hand, City surely have the most potent under-23 in world football, and should they stay together and on track, City will see a seamless transition from the first Golden era, which will by no means will be an easy feat.
Raheem Sterling is currently on a trajectory to become one of the very best. It will be his doubters, not him, that are placed in the dustbin of history.