Paul McCartney once wrote "I don't care too much for money, money can't buy me Stones". Something like that anyway. The essence rings true, City can spend all the money in the world building a Guardiola-esque attacking side, but how well can they operate without the leadership, passion and desire of John Stones at the back?
I argue to forget De Bruyne, Sané, Agüero et al – John Stones is City's most crucial player.
Manchester City have been playing phenomenal football this season, possibly the best we've ever seen in English football. But as BBC's Pat Nevin points out "I think Manchester City can do without Kevin [De Bruyne], because they've got Silva".
He echoes this reasoning on a few fronts: Agüero has a car crash – we've got wonderkid Gabriel Jesus; Walker gets injured? We've got ex-Madridista Danilo. Raheem Sterling not performing? No worries, architect of Monaco's Ligue 1 triumph Bernardo Silva is warming the bench.
BUT, when John Stones went down holding that hamstring on Saturday, City Twitter was left with the sort of negativity I haven't seen for an injury in a long time.
Stones hammy gone. Title race back on.

— RG⁶ (@registability) November 18, 2017
Slightly over-the-top, but I see the logic.
John Stones has improved in so many departments this season and I will use just three reasons to illustrate why he is so important to this City side:
Defensive duties
After all, John is a defender. When we signed him, people were quick to make the Gerard Piqué or Jerome Boateng comparisons. But before you can run you need to learn to walk. In a metaphorical sense, the Barnsley-born lad struggled with this in his first season at the Etihad.
When I think of last season, I don't really think of the highs – the great start, beating Barcelona, the trip to Wembley – I think of the lows, namely Everton away, Leicester away, the Monaco away leg – it goes on. John Stones was at the centre of more than one high profile error in these games.
The media criticism, the question marks from his own fans, mocking from opposition supports – these hurt John deep I am sure. He went away in the summer, had a rest, and came back a new man.
His physique over summer seemed to change for the better, he can now muscle opponents off the ball with ease. Not only this, he knows when to not dive in and get caught out and beaten easy. He reads the game perfectly and covers his near post very well on crosses – always in a great place for interceptions and clearances. In fact City have conceded the least goals from set pieces.
Defensively, John is far from the finished article, but comparing to last season: he is extremely solid. His performances in the San Paolo, Stamford Bridge and in other tight games have been faultless.
Passing
To play in a Guardiola side, you need to have good feet. We knew what we were getting with John Stones when we bought him, but again – he has come on leaps and bounds in this department this season.
His successful pass percentage in all competitions this season is staggering: 96.2%.
He doesn't just pass for passing sake however, and tries to stop the team passing in a U shape around the pitch. Instead, he gets his head up and tries to get the ball into feet of Jesus, or another front man, breaking the lines of the opposition in the process.
No assists have been registered in his name, but his passes (along with Otamendi) have been crucial in starting the attacks of many goals for this rampant City front line.
Leadership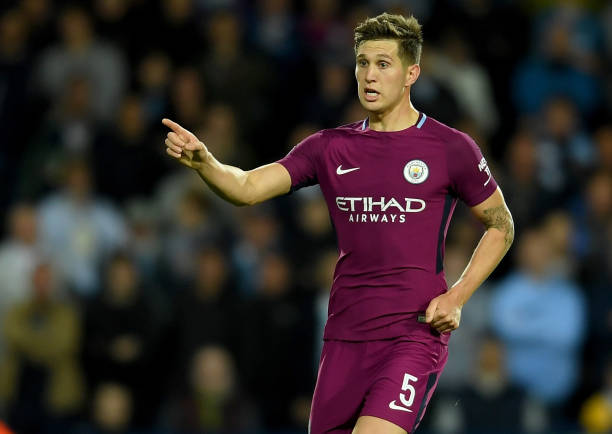 Most significantly of all, to me, is that Stones is becoming a leader more and more every game.
One of the more unsung heroes of our success is Nicolas Otamendi, and part of his great season has to be credited to John Stones (and to be fair to Nico, vice-versa).
John Stones is the key man martialing a 'Made in Yorkshire' (nearly) back four of himself, Kyle Walker, Otamendi and Fabian Delph. If you search on Google images for John Stones, more times than not he has his arms out pointing – directing his teammates where to be.
Not only this, he shows passion and desire. When we score, he gets from our own half to the celebration area in very quick fashion.
For this: I am 99% that John Stones is the man to wear the armband when Vinnie Kompany hangs up his boots: maybe not straight away but he is the long-term successor. Maybe one day we will see him lead out his country too.
Summarising
If you have ever read my player ratings, I always give a lot of love to 'Stonesy lad' and the fact he has 'more balls' than anyone at the club. But I promise, I am only slightly biased.
We will miss Stones a lot over the Christmas period, and I hope his absence doesn't lead to us blowing our eight-point lead at the pinnacle of English football.
He is our most valuable player as our replacements just don't live up to Stones' ability – another position we would be covered – but we are thin here, as we lack our 'Made of Stone' looking defence.
Speedy recovery, John.