There was more than just a smidgen of irony in the way Manchester City supporters congregated to declare their affection for Edin Džeko on Wednesday night. They'd just seen the Roma striker wallop in a ridiculous left-footed volley past Thibaut Courtois in the Chelsea net, a strike packed with the gunpowder you'd expect from Aleksandar Kolarov who, incidentally, had scored Roma's first in this game and was seen embracing his teammate shortly after. 'We miss you!' whimpered City twitter as if Džeko had been producing wonder goals like this week in week out during his time at the Etihad, and not the infuriatingly clumsy displays that eventually persuaded Manuel Pellegrini to offload him in 2015. All very nostalgic though, I'll give you that.
Not to take anything away from Džeko's influence at the club which is still largely overlooked, but moments of aesthetic beauty like this aren't, or weren't, typical of his game. Džeko became notorious for his dispatching of 'heavy' goals at City though only five of his 50 Premier League goals for the Blues came from outside the area. The Bosnian has been even more effective in Italy's capital city scoring 44 league goals in 75 appearances but again, only five have come from outside the 18-yard box.
With that said, I guess the 31-year-old is someone you'd describe as a 'poacher'. The term has acquired negative connotations in the last decade with a greater focus being put on the aesthetics of the game. We can partly blame our own manager for the shift that has heaped extra responsibility on the forward so that the art of goal-scoring is just one of many attributes in their repertoire. Oddly enough, strikers like Džeko are no longer doing their jobs properly if they're just scoring goals, they must now also track runs and brings others into play too.
City's current centre-forward Gabriel Jesus does that better than most. The 20-year-old has made the transition from Brazilian to English and Champions League look so easy that his remarkable return of 15 goals and 6 assists in 22 games for us has barely raised an eyebrow. There has been no real maneuvering of pieces or changing of systems to accommodate for the striker, he's just always fit in, really.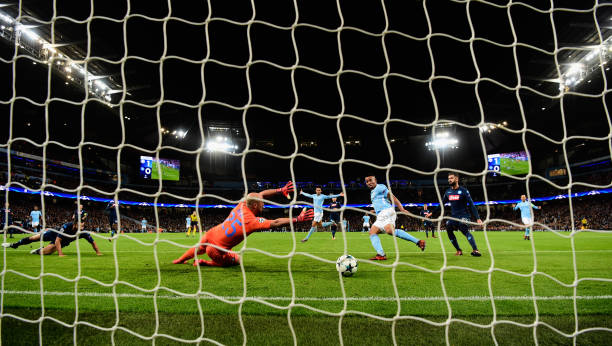 Jesus found the net once again on Tuesday night to take his tally to 8 goals from 10 games in Premier League and European competition this season. Compare that record with those of fellow 'wonderkids' Kylian Mbappé and Marcus Rashford and you find the Brazilian has more goals than both, albeit in one more game than Rashford, but in one less than £169million man-to-be Mbappé who looks destined to claim this year's Golden Boy award. Surely Jesus deserves to be mentioned in the same breath?
Of course, there are fundamental differences between the three. While Rashford and Mbappé exhibit the pace, skill and juvenility so typical of young talents today, there's very little of that from Jesus who plays his game more like a 35-year-old veteran. There's something different about him, something unusually mature and reserved for a player of his age, something divergent from the characteristics we've become so accustomed to from wonder-kids. Jesus is a finisher of moves rather than a manufacturer of them, and in this new game now so infatuated with defenders playing 60-yard passes and threaded through balls, rabonas and fast flicks of the feet may be held in higher regard than a tap in from three yards.
Unfortunately for Jesus, most of his goals come from that sort of range. In fact, all of Jesus's 15 goals for City have come from inside the box, apparently representing his inability to do anything else rather than actually demonstrating how superb his movement and anticipation is. Perhaps it's a sign of the times that Jesus has come under fire for his goalscoring habits but it only goes to show just how much attitudes towards poachers have changed over time. Rewind 12 years or so and the same bad-mouthers were lauding Ruud van Nistelrooy, Michael Owen and Raul for their knack of finding the net. How many of their goals came from outside the box, I wonder?
We must be careful however not to blindly categorise Jesus as a tap-in merchant just because of the way he scores goals. While Owen and Van Nistelrooy spent the majority of their time snooping round the penalty area, Jesus often drops deep, collecting the ball and switching to the flanks before bursting into the box to finish off the move. He's a modern striker; always involved in the build-up, interminably hardworking and clinical. Just because he doesn't score his goals from 25-yards out doesn't mean he should be written off as just another poacher.