Manchester City play host to Naples on Tuesday in what promises to be ninety minutes of no-holds-barred, easy-on-the-eye attacking footballing displays. I spoke to Napoli podcast Sempre SSC Napoli to ask them about all things Naples: from the manager Sarri to the fluid football that has earned them big praise from around the continent.
James McGhie, Kenny Cioffredi, Marco D'Onofrio, and Raffa Rispo from the podcast kindly answered my questions and gave me an insight into Sarri's Napoli…
Boss Maurizio Sarri was heavily criticized when he took over from Rafa Benitez by the likes of Diego Maradona and other Neopolitans'. Can you give us a brief background of Sarri and why his tactics are lauded around European football?
James McGhie
Much of the criticism around Sarri when he was appointed was down to two factors in my opinion. Firstly, we'd just let go of Rafa Benitez who, despite being a relative failure, was still a big name in the game. Many saw Benitez as the man to take us to the next level after Walter Mazzarri and it just didn't happen. So when De Laurentiis brought in this unknown manager from Empoli, many fans initially thought the President was being cheap or taking a huge gamble, which brings us to the second point, his inexperience. Napoli, as both a city and a club, are ambitious and demanding, and when a man with relatively zero top flight or European football experience was appointed, fans were worried about the direction the club was taking. How wrong we were!
The reason Sarri is so lauded now is because he focuses on a possession game with quick transitions from defence to attack. He likes to play out from the back, but in Pepe Reina has a ball playing goalkeeper who can also hit a target out wide on the halfway line from a drop ball, thus launching a quick fire counter attack from a corner kick, for example.
He also focuses and invests time in youth. Napoli are of the only clubs in Italy with no debt which is down to our president who, in the main, only spends what we bring in. Many lamented the loss of Gonzalo Higuain but the ironic thing is that Juventus €90m only served to make Napoli stronger as we invested in and, subsequently through Sarri, developed the likes of Piotr Zielinski, Amadou Diawara, and Marko Rog.
Young players are put through what many call, "The University of Sarri", where players must prove their ability both physically and mentally before being allowed near the first time squad, often making brief substitute appearances before being trusted with a starting role. This has now come to fruition as the aforementioned three players are now considered the heirs to Hamsik, Jorginho, and Allan.
Sarri is meticulous on the training ground, deploying drones to capture footage of his players movement from above for study at a later date, and the weekly statistics prove that his approach works as we dominate possession anywhere from 60-75%. Add to this the most offensive front line in Italian football, if not European football, and it combines to create a very exciting footballing package for our supporters; a team which not only wins but entertains while doing so.
At the time of writing, Napoli have registered 8 wins in 8 games in Serie A – what is it that has drove this early-season success? Can Napoli go all the way and win the league this season?
Marco D'Onofrio
Napoli's early season success is in large part due to the fact that they saw almost no turnover from last season. Maurizio Sarri has proven himself to be a true tactical genius, but it can take quite a while for a new player to adapt to his system and learn to play the type of football he expects. With all the team's core pieces back from last year, we have not seen the type of early season transition period that we saw in the past.
The team is dedicated to lifting the most prestigious prize on the peninsula as the team formed a 'Scudetto pact', which is why everyone decided to stick around. They have already proven this season they can win ugly as well, which will be key for this team going forward. Sarri's Napoli plays some of the most beautiful football on the continent, but that hasn't equated to trophies in the past and the squad is learning to become more ruthless with their opponents.
Depth remains a big question though as the season wears on, with Arek Milik already out injured until at least January. Dries Mertens, Jose Callejon, and Lorenzo Insigne have formed quite the potent strike force, but with the club playing in three competitions they will need to be supported off of the bench as well.
It'll be a long campaign and Juventus are the perennial favourites as they have shown time and time again they know how to win – something Napoli still hasn't proven they can do. This seems to be a much more mature Partenopei side than in the past though, and if they can stay healthy the Southern giants could finally rise again come May.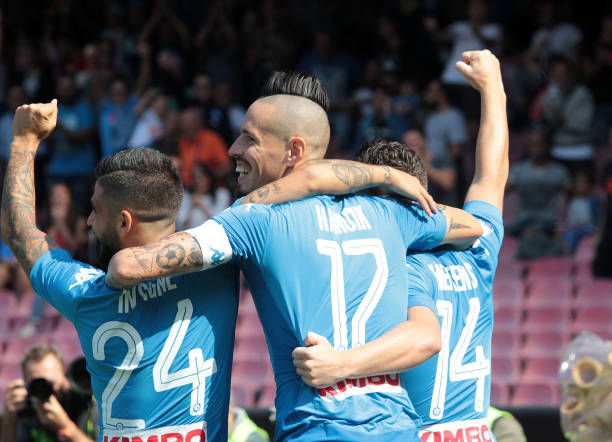 I have watched Napoli a couple of times this season and been overwhelmed by the speed and fluidity of their passing game. What players are at the heart of this, and who will be most likely to cause City problems on Tuesday night?
James McGhie
When it comes to Napoli's passing game, its key to understand that every player knowing and being mature enough to carry out their role in the side is crucial to how Sarri's system operates. There's no "passengers", every player has a job and is disciplined in that job.
When it come to our offensive game however, it's about several areas. Firstly, the wing backs Ghoulam and Hysaj will always look to get forward and support Insigne and Callejon respectively but that doesn't mean we leave ourselves short at the back, as you'll often see Callejon track back into right back to win back possession after Hysaj has made a burst forward, which is another sign of that maturity and discipline in the side.
The basis for our attacks come from Jorginho, who as the teams "Regista" retains possession and keeps the ball moving. In front of him sit Marek Hamsik, our captain, and Allan who is a pitbull in midfield, but don't mistake him for a mere ball winner. Allan isn't afraid to get forward and support the front three and in Hamsik we have a player who will always find space, often between the lines of the midfield and defence and it's there where he looks for the overlapping runs from the full backs or looks to play triangles with supporting midfielders or any the front three to try and open up the defence and create a goal scoring opportunity. It's all very fluid and interchangeable, which is what makes defending against us more difficult.
In our front three, we have Lorenzo Insigne and Jose Maria Callejon who flank Dries Mertens, Belgian team mate of your very own Kevin De Bruyne, and he's a player who last seasons became reinvigorated thanks to Sarri. From a super-sub winger to a super-striker, Dries missed out on the Capocannoniere to Roma's Edin Dzeko last season by one goal, and his direct play and fearless driving at defenders should cause City some problems, especially with the near telepathic understanding he has with both Insigne and Callejon either side of him.
Guardiola is said to be a massive rater of Napoli midfielder Jorginho – what qualities does he have that have earned him praise such as 'one of the most underrated players in Europe'?
Kenny Cioffredi
Jorginho is one of the most important players in Sarri's 4-3-3 system. Napoli are at their best when they are moving the ball with fluidity and purpose, and Jorginho is the man who makes a lot of this happen.
 
He lies deepest of the 3 midfielders, and plays a pretty classic "regista" role. He is the focal point of our passing game. He is the one pinging the ball around and can see plays develop before they happen. His precise passes and obscenely high IQ for the game make hime especially good at this role. With these skills, Jorginho has set and broken single player pass records 4 times since the beginning of last season. 
He averaged 98 completed passes a game last season in Serie A, with 91% pass completion, and has already improved on that this year, with that average going up to 102 per game, and 93% completion.
Finally, how do you see the games between City and Napoli going, with both sides presumably taking a very attacking approach to the games?
Raffaele Rispo
It's very tough to call this. Both teams are already setting offensive records this season. Both have a solid back line. Man City have a few 5-0 results and just yesterday put 7 passed Stoke, while Napoli besides yesterday's 1-0 win away to Roma, have scored 3 or more goals in 12 straight Serie A matches, put 6 passed Benevento recently, and have scored an average of 3.25 goals a match this season themselves. It's such an even playing field. 
With Napoli, there's no question the Scudetto is  the primary target and the fact that Sarri put out the, as we at Sempre call it, the "Classic XI" against lowly Benevento proves that. That same lineup was on hand for a very physical away Roma match yesterday. With that in mind, we have to believe that Sarri is prepared to rotate his squad a bit for the Champions League, especially with an extremely important tie at home to Inter Milan on Saturday.
With that in mind, I can see Napoli dropping some points at the Etihad. But I can't see them losing at San Paolo. As City fans well know, the San Paolo on a European night is a fortress of which very few teams can handle. All in all, this will be the most entertaining matches in all the Champions League group stages.