When Manchester United drew SL Benfica, cold ball conspiracy theorists on my Twitter timeline were manifested into being yet again. On the face of it though, City's draw is much fairer than some of the other hands we've been dealt in this competition and we've certainly got some interesting games on our hands as well as a very possible chance to top the group, including two teams we have not been drawn against in this competition.
So, who are our rivals this time?
Shakhtar Donetsk, Ukraine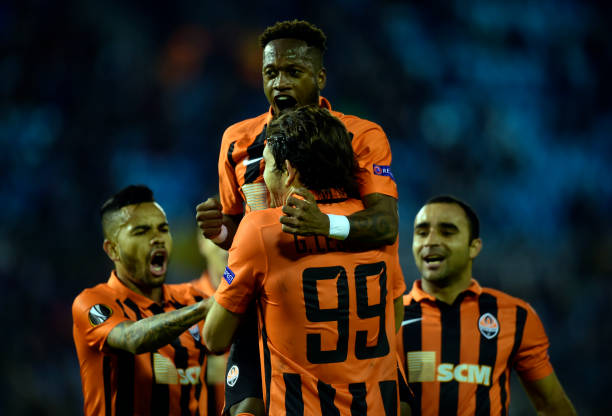 Stadium: Metalist Oblast Sports Complex (since February 2017, capacity: 40,003).
Manager: Paulo Fonseca (aged 44).
Background: Founded in 1936, Shakhtar were arguably the weakest team to be placed in pot one. The side from Donetsk have had to move from their iconic Donbass Arena to a stadium approximately 150 miles north of their home city, due to conflict in the area. Shakhtar have won the Ukrainian top division ten times since 1992 and have finished runners up on twelve occasions, last season winning their first title since the 2013/14 edition.
In 2016 they lost iconic manager Mircea Lucescu to Zenit Saint Petersburg after twelve years of managing the Hirnky, not before he became only the fifth manager to coach 100 Champions League games. Lucescu currently manages the Turkish national team.
Though the furthest Shakhtar have reached in the Champions League is the quarter-finals, where they were eliminated by Pep Guardiola's eventual winners Barcelona in 2010/11, they won the 2008/09 edition of the Europa League after beating Werder Bremen 2-1 in the final thanks to goals from Luiz Adriano (now at Spartak Moscow) and Jádson (now at Corinthians).
Shakhtar have had some memorable players in their recent history, including Fernandinho, Henrikh Mkhitaryan, Willian and Douglas Costa.
Key Man: Darijo Srna (aged 35, right-back). It would feel wrong to talk about Shakhtar without mentioning this man. He is comparable to Pablo Zabaleta, but not just because of his position or his playing style. Srna has been at Shakhtar since 2003, and since then has made almost 500 games for the club, racking up 45 goals and 120 assists in his 14-year spell. At 35 he is still an important part of Shakhtar's squad, having played in all six of Shakhtar's league games so far this season.
Strengths and Weaknesses: A major positive for Shakhtar will be that the Ukrainian Premier League started over a month ago. Thus far the team from Donetsk have played six games and lie in second place with 15 points. This might mean they are a little fresher for the games and will have shaken out any early season cobwebs. However, the fact their allocated home stadium has only been their home for a matter of months, it is arguable that their home advantage is diminished somewhat. Add to that the fact that City could've drawn one of the big three clubs but drew Shakhtar – not necessarily a weakness but certainly a positive for City.
SSC Napoli, Italy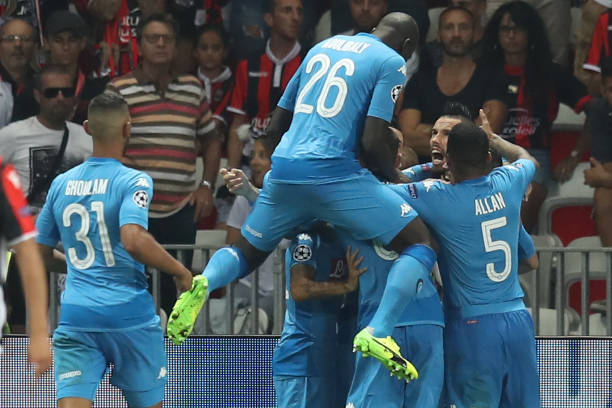 Stadium: Stadio San Paolo (capacity: 60,240).
Manager: Maurizio Sarri (aged 58).
Background: Founded in 1926, Napoli are the only team in this group who City have recent memories of after the two sides drew each other in City's first Champions League adventure back in 2011/12. Napoli were in fact City's first ever Champions League opponents, a game which ended 1-1 at the Etihad.
Napoli have a rich history of world class players, and none are bigger than Diego Maradona himself, who led the side from Naples to the clubs' only Serie A titles, in 1986/87 and 1989/90. They also won the UEFA Cup in his time at the club, in the 1988/89 season, and for his exploits Napoli have bizarrely retired the number 10.
Other past players include Fabio Cannavaro, Edinson Cavani and of course, Gonzalo Higuaín, who in the 2015/16 season equalled an 87 year-old record by scoring 36 league goals in the Italian top-flight, before the club sold him to Juventus for a reported £85m.
As Napoli finished third in last year's edition of Serie A, which meant they needed to beat Nice in a play-off to qualify for this year's Champions League group stage, it was eventual winners Real Madrid who knocked them out of last year's Champions League in the round of 16; with the Madrid side winning 6-2 on aggregate.
Key Man: Dries Mertens (aged 30, centre-forward and left-wing). Napoli's squad is currently littered with talent, so this was a close call. Mertens hit 34 goals and 15 assists in 46 appearances last season, with 28 of those coming in Serie A, as well as 11 assists. Mertens was picked up by the Neapolitan outfit from PSV Eindhoven for a measly £8.5m, and since then he has developed rapidly despite his age. Now hitting his peak, Mertens is one of a few attackers Napoli have which City will need to keep a close eye on.
Strengths and Weaknesses: Sarri-ball is all the rage at the moment. Maurizio Sarri, having taken over management of the club in 2015 following a stint in charge of Empoli, is renowned for playing beautiful, high pressing but precise and fluid football. It's fantastic to watch and clearly has had some success. They also have a great attacking quartet, in the form of Dries Mertens, Marek Hamšík, Lorenzo Insigne and Arkadiusz Milik, all of whom will hope to tear defences apart. However, for all the beauty and panache of their style, as their third-place finish last season can prove testament to, they often fail to win when they really should. However, as we found out in 2011, the San Paolo is a fearsome, tempestuous playing arena.
Feyenoord, Holland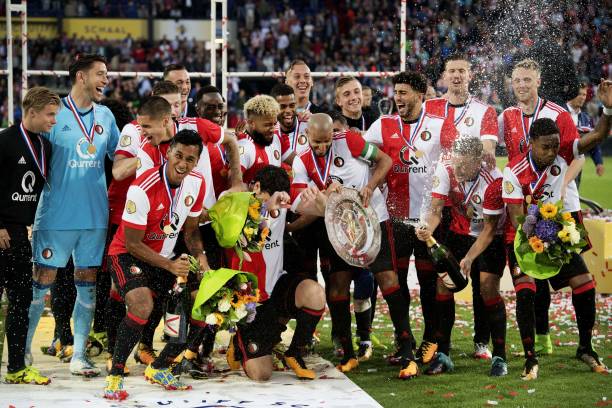 Stadium: De Kuip (capacity: 51,177).
Manager: Giovanni van Bronckhorst (aged 42).
Background: After some years in the footballing wilderness, Feyenoord are back. Last season they won the Eredivisie for the first time since 1998/99, and will subsequently play in their first edition of the Champions League since the 2002/03 season, where they finished bottom of a group containing Dynamo Kiev, Newcastle and Juventus.
Winners of the Eredivisie fifteen times and the KNVB Cup twelve times, De club aan de Maas are the only team in this group to have won the competition, which they did in the 1969/70 season, beating Celtic in the final 2-1. They have also won the UEFA Cup twice, first in 1974 and then again in 2002, with Pierre van Hooijdonk and Jon Dahl Tomasson firing them to European glory.
Despite last season's triumph, they have seen a summer of change. Club icon Dirk Kuyt retired after his second stint at the club, and in his final game as a player he scored a hat-trick as Feyenoord sealed the Eredivisie with a 3-1 victory over Heracles. They've also lost the crucial Terence Kongolo to Monaco and Rick Karsdrop to AS Roma, meaning this summer they've had to recruit a few new faces including Steven Berghuis from Watford. They've been linked with a return for Robin van Persie, but no deal has materialised yet.
They are famous for their fanatical fans and the club have effectively retired the number 12 in favour of their Het Legioen.
Key Man: Nicolai Jörgensen (aged 26). Feyenoord may have lost Dirk Kuyt this summer but they have so far managed to keep hold of last seasons' top scorer, Nicolai Jörgensen. After signing for Feyenoord from FC Copenhagen in July 2016 for just £3m, Jörgensen hit 21 goals in 32 Eredivisie games last season, as well as registering 14 assists. He was less effective in Feyenoord's Europa League run, though he did get an assist in Feyenoord's win over Manchester United at De Kuip. Tall yet still able to play the ball effectively, Jörgensen will hope to improve his European record this time round.
Strengths and Weaknesses: Feyenoord are an unknown quantity in this competition, and a fair amount of their players have not yet played in football's greatest club competition. Their squad has lost a few of its better players this summer without proper replacements, yet they still held onto most of the stars that helped them to Eredivisie victory last year. De Kuip has the potential to be a stumbling block for a City who often fail to put in a performance away in Europe, though.
—
On paper, our opponents in this year's group stage are weaker than some of the giants we've drawn in the past. Our baptism of fire in 2011/12, our group of death in 2012/13 where we failed to win a single game. Hopefully City can put this group to the sword and not just qualify for the knock-out rounds, but win the group. But, as we've seen, there are some threats lying in wait, and we absolutely should not underestimate any of our opponents in this deceptive group.