SÀNCHEZ AND MBAPPÈ FIT INTO PEP'S IDEOLOGICAL DREAM, BUT WHERE DOES THAT LEAVE AGÜERO?
A look on Twitter this morning and it appears Arsenal supporters, hopelessly resigned to losing their best player Alexis Sánchez to a Premier League rival this summer, would march over land and sea, bellowing 'We want Mbappé, said we want Mbappé' down a tinpot megaphone to have Monaco's most wonderful of wonder-kids replace the Chilean. Members of the Wenger Out brigade will tell you that protestations of this kind often fall upon deaf ears, but not even Arsenal's sedentary boardroom will have been able to ignore the 18-year-old Frenchman's rise to stardom this year. Likened to Gunner's legend Thierry Henry, Mbappé would be the perfect signing for Arsenal, an indication that the club are finally ready to compete.
Unfortunately for fans of the London club that find themselves currently in such an unfortunate situation, the likelihood of Mbappé following in the footsteps of Henry and moving to the Emirates Stadium is nil, especially with Arsenal almost certain to miss out on the top 4. Henry himself lamented that "my old club [Arsenal] are not an attractive destination any more for the top, top players" in his column in The Sun this week and the fear at the Emirates is that the club will not be able to conduct the business they need to in order to keep up with the Premier League's top dogs without the attraction of Champions League football.
Arsenal's pain could be Manchester City's gain. The 3-0 win at Southampton on Saturday means we should be confident of finishing in the European places. With Pep Guardiola – the Jenna Jameson of the football world in that every player in the world seems to want to work with him – Champions League football and a bucket load of money to offer those umming and ahhing over a move away from their current club, City may be in a position to lure both Sánchez and Mbappé to the Etihad Stadium.
According to L'Equipe in France, City had a £34.5million bid rejected for Mbappé in August and the suggestion is that Guardiola will try again in a few month's time. Having watched the prodigy net 16 goals, two of which came against City, and claim 5 assists in 24 Ligue 1 and six Champions League games this term, Monaco have every right to triple their asking price. Sky Sports News correspondent Guillem Balague claims a bid in excess of €100m has already been submitted by an unnamed Premier League club, and if that bid hasn't come from City they'll almost certainly be monitoring the situation, well aware that missing out on the Frenchman could significantly strengthen a rival.
City find themselves in a similar situation with Sánchez. The 28-year-old is wanted by Chelsea but reports in Chile suggest the forward is very close to agreeing a £50million move to City. With Guardiola keen to strengthen his attacking options it is not unrealistic to give City a chance of signing both players, but an outlay of £130m on two players would leave the club short on funds with the goalkeeper, full-back and central midfield positions in desperate need of renovation. For perhaps the first time since his appointment in 2012, Txiki Begiristain must drive a hard bargain when the transfer window opens in July.
In today's inflated market City should expect to rake in at least £60million from the sales of Joe Hart, Samir Nasri, Wilfried Bony, Fernando and Nolito. Kelechi Iheanacho is another who could leave the club for an estimated fee of £15million – £20million, although I suspect the club would prefer a loan deal. Defensive issues aside, City are in dire need of back-up going forward and must find the cash to bolster the squad; take Sané, Sterling and Agüero out of the side and we're left with a front three severely lacking in pace, imagination and goals.
An attack comprising of Agüero, Gabriel Jesus, Sané, Sterling, Mbappé and Sánchez is enough to strike fear into any European defence, but it would also be ludicrously optimistic to expect six world class players fighting for the same positions to function in harmony. And with Guardiola keen to work with English talent, he'll also be wary of fitting the returning Patrick Roberts into the system. Even taking Guardiola's rotation tendencies into account, players will see their game time fall and senior heads like Agüero and Sánchez are the most likely to kick up a fuss.
Should Guardiola's ideological dream become a reality, he has a big decision to make on the future of the best striker City have ever had. For avid supporters of Agüero like myself, a return of 12 goals in 15 starts since Jesus's injury and an exceptional display of determination to becoming more involved in our build-up play would be enough to keep the Argentine as our main striker, but for Guardiola it is a question of whether Agüero's transition has been smooth enough and whether he can see the 28-year-old fitting into his vision of the future. Whatever decision Pep makes, he'll be both chastised and applauded for it.
THERE ARE PAUL MERSONS IN SPAIN, TOO.
Sid Lowe is one of my favourite sports journalists and so, naturally, I turned to his piece on Tony Adams on Monday morning. I've been captivated by the whole Adams to Granada situation, not only because Adams portrays a goofy, cartoon-like character – your typical Englishman in Spain, but because he's a very likable guy with good, honest intentions. He's gone over there to do his best for a club in turmoil and while it's inevitable that he would becoming something of a meme you can have nothing but respect for what he's trying to do.
Unfortunately we find ourselves in a mocking culture whereby every man, woman and child's actions are ridiculed on social media. Another's mannerisms, perhaps a strange accent or a rather enthusiastic coaching style (as Adams has showcased), that do not conform to the ideology of a man sitting in a black suit, hair parted to the side, on a swivel chair at a Dell computer are slated on a daily basis. It's almost as if we expect people to just stand there like mannequins, breathing in and out and doing nothing else.
Lowe's article shows how quick the Spanish press were to jump on this odd, new Englishman following Granada's 3-0 defeat to Celta Vigo in his first game in charge.
Now Paul Merson's rant about Marco Silva was bad, but at least his real concern was about the future of English managers. In this passage all I see is Spanish journalists using Granada's loss as an excuse to batter English managers for being English. Adams is roasted as if he is the man who has caused, rather than inherited, the problem and judged to be a failure after just one game in charge. The tone is distasteful and shows that it's not only in England where an insular attitude can prevail.
HEROES OF THE WEEK
Xabi Alonso and Philipp Lahm. Two of the best players to play the game will retire at the end of the season and played their last Champions League game last night in the 4-2 defeat to Real Madrid. They'll both be sorely missed.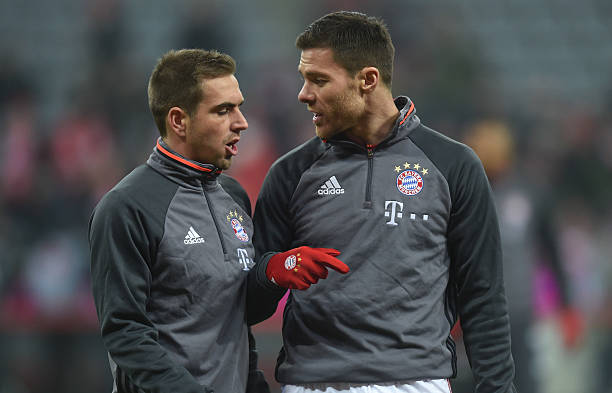 VILLAINS OF THE WEEK
Viktor Kassai and his officials, for ruining a potential classic. There were six goals between Real Madrid and Bayern Munich last night but only one team was ever going to win once Arturo Vidal was sent off for a clean tackle. That, and two offside goals from Cristiano Ronaldo, capped off one hell of a horrific refereeing display from the Hungarian team.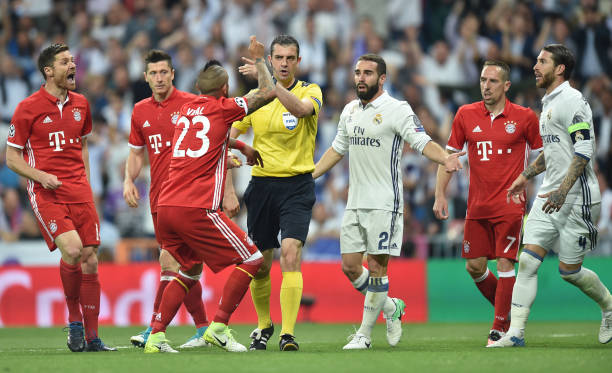 TRANSFER RUMOURS RATED
Claudio Bravo taking English lessons and is set to stay at Manchester City
Claudio Bravo is expected to stay at Manchester City next season and is improving his English to communicate better with players. [The Sun] pic.twitter.com/SpuzLAuEKR

— City Watch (@City_Watch) April 18, 2017
Good. Seriously, Adam? Yes. And I never thought I'd hear myself saying this, but City require stability in this position, even if Bravo is unlikely to be our first choice keeper next season. Joe Hart is certain to leave the club this summer and getting rid of Bravo would only add to our problems between the sticks. He's had a rough first season but deserves a second one to prove he's not totally shite.
City waiting in the wings for Kingsley Coman
The French international has probably been yearning for Guardiola's touch since the Catalan left Bayern Munich for greener pastures (ha ha). Coman has made only 16 appearances under Carlo Ancelotti this term, scoring two goals, and it's fair to say the Italian hasn't been as successful as Guardiola was in coaxing the best out of the 20-year-old. Bayern have just 11 days to decide whether they will activate their option to buy. If they don't, Le Parisien believe City will swoop.
City's attack is set for a huge makeover but with Mbappé and Sánchez also on the radar and Patrick Roberts to return to the squad, Guardiola is at risk of giving himself too many options to choose from. I say ditch Coman and give Roberts the chance he deserves.
City one of five clubs interested in Southampton's Dušan Tadić
He's a good player, but I suspect Pep will be looking for younger options in this position with David Silva already into his 30's. If we can do a deal below £15million then I'd be for it.