Kompany's resurgence may save City money in the transfer window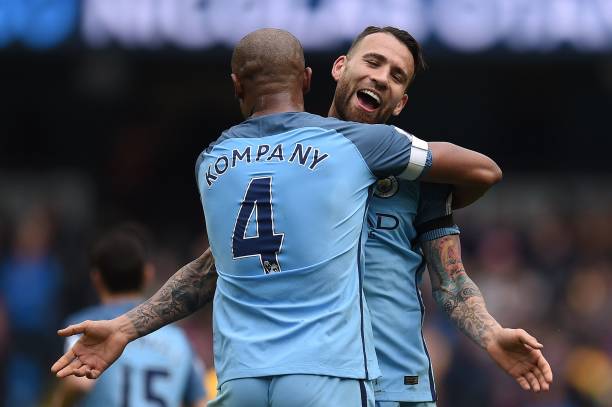 Type 'Otamendi' into the Twitter search bar, click on the little magnifying glass and you will find out that the Argentinian central defender is a much better player alongside Vincent Kompany. It's true, and although I must admit that Nico's goal in City's weekend pummeling of Crystal Palace may have contributed somewhat to the sweet, syrupy spoonful of praise I'm about to drip over him, there are other things that have caught my eye, things equally as deserving of applause.
Anomalistic goals aside, Otamendi's performance in the 5-0 win was simply immaculate. And for Otamendi, who himself could be described quite aptly as an anomaly in that he is the only player in the division who can transform from the league's worst centre-half to the league's best in as little as three days time, to drag the eye of one of his fiercest critics – me – away from such a hypnotising attacking display says a lot about the way he played. 93% pass success, 11 clearances, three interceptions and a goal; a delicious taste of what the 29-year-old can do when he's not rubbing his arse along the grass.
For the statisticians among us this information is nothing new. Otamendi is a regular in WhoScored's Team of the Week infographic and, with an impressive average rating of 7.50, currently makes into the football statistics website's Team of the Season. By editorial officer of the site Ben McAleer's own admission the reason for Otamendi's inclusion is that 'he does well in all defensive stats', though criteria of this kind often ignores the 'negative space' which includes defensive errors and most certainly in the Argentine's case extraordinarily mistimed slide tackles.
Otamendi's defending has been calamitous at times this season but generally there has been an improvement in his play. The 29-year-old has shown he can adapt to Pep's ideologies; his 87% pass accuracy rate is up 3% on last season's and he has already made 172 more passes than he did in the entire of last term. Otamendi also averages 10 defensive actions per-game – a total that trumps everyone else in the squad, and has offered commanding performances in big games against Liverpool and Manchester United.
Unsurprisingly, many of Otamendi's more assured displays have come alongside Vincent Kompany, a man who could instill confidence in a 4ft 5 obese teenager with severe acne. City have kept three clean sheets in the five consecutive starts Kompany has made from the 15th April and his presence in the back line has encouraged Otamendi to bring the ball forward and demonstrate his fine passing ability.
According to a report in the Daily Telegraph, the Belgian was on borrowed time at the club before proving to Guardiola that he could stay fit. Guardiola believes Kompany offers the sort of leadership others haven't provided and sees him in his plans for next season. It is what the 31-year-old brings out in others that makes him such an asset to the club.
And with 19-year-old prospect Tosin Adarabioyo now tied down to a new contract after it had appeared that the centre-back was close to leaving the Etihad, Guardiola has reason to be more confident about the centre of his defence going forward. Juventus's Leonardo Bonucci remains a target and it appears the club will do everything in their power to land the imperious Italian this summer, but Kompany's resurgence and the restorative effect it has had on Otamendi may save City a lot of money in the July transfer window.
Yaya Touré's contract situation: Let's not blow the final candle out just yet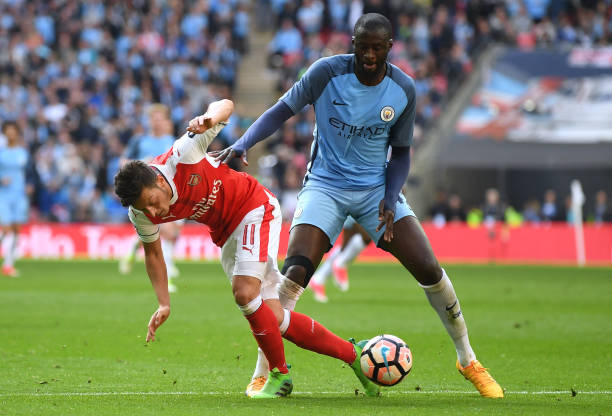 There is no day in Manchester City's history more worthy of celebration than May 13th. Not only does it mark the date that Sergio Agüero single-handedly became responsible for the highest number of pregnancies Stockport has ever seen, but also the birthday of Yaya Touré – the man perhaps more responsible than most for accelerating Manchester City's mental shift from a small club to one that wants to win things. Touré is comfortably the best central midfielder to ever play in sky blue, and possibly the best to ever play in the Premier League.
The Ivorian has undergone a shift of his own this season. After being ousted from the squad entirely and then miraculously reintroduced against Crystal Palace in November, Touré has been one of the club's better performers playing much deeper than usual. It's a role that suits the 33-year-old's heavy legs and caters to his terrific range of passing. In the absence of İlkay Gündoğan and with Fernandinho's drop in form in mind, Touré has been something of a life saver for Pep Guardiola.
But with claims that City have already decided who will stay and who will leave the club this summer, it appears Touré will not be offered the contract extension he probably deserves. Dimitri Seluk's behaviour has been uncharacteristically normal amid the inactivity.
"It looks like this will be Yaya's final season with City and he deserves a special goodbye from the people of Manchester," Touré's agent is quoted as saying in the Mirror.
"The City fans should all bring cakes to the game (on Saturday) to show Yaya how much they love him."
The fact that the Ukrainian has not responded by calling up Sky Sports and screaming down the phone suggests his client has accepted his fate, and the news will be difficult for City fans to stomach. For the majority of Blues it is between Touré and David Silva for the title of Manchester City's best ever player.
Guardiola has proven in the past that he is not one for emotional attachment and so any hope of Touré remaining at the Etihad Stadium by virtue of his status among fans should should be extinguished immediately. What could, and should, save Touré however is the professionalism he has shown this term, and the way he has responded to the manager's very public castigation of him with excellent performances on the pitch.
Among the numerous areas in the squad that need improving in the July window is the centre of the park and the fact that City have gone cold on Touré's future suggests they already have a replacement lined up. And if that's the case, the club have managed to keep things very quiet with only Sporting Lisbon's William Carvalho making the headlines in a few uninspiring transfer columns. To go into next season with only a German still recovering from injury and a Brazilian who has become more of a utility full-back as viable central midfield options would be suicide for a team that has suffered from a lack of squad depth all season. A one-year extension for our most used holding midfielder, then, makes perfect sense.
"We're going to buy Yaya as big a birthday cake as possible," chuckled Guardiola in his pre-match press conference. A contract extension would be a better, more appropriate gift.
Video of the week
Marriage, the birth of your child or 93:20? No contest, right?
Image of the week
Touré and Silva may be better players, but no player in the team has shed more blood, sweat and tears for this club than Pablo Zabaleta. When he retires, there's no doubt he'll be somewhere in Stockport, feet up on a balcony with a view of the Etihad.
Transfer rumour team predictor