11th May 2008: Manchester City travelled to Middlesbrough for what was their final game of the 2007/08 season. Manager Sven-Goran Eriksson was facing the sack for City and roughly 3,000 Blues headed to the North-East to show support for their soon-to-be axed man in charge. An early red card meant that City found themselves on the wrong end of a humiliating drubbing. For the fans though, that typical comedic value was attached; despite a crushing finale to the season, City fans were blindly optimistic as ever.
August 2008: With Mark Hughes appointed as City's new man on the touchline, there was a freshness present in the build-up to the 2008/09 season. City had a British manager, who had overachieved at North-West neighbours Blackburn. Still, City were owned by Thaksin Shinawatra. Despite concerns about the financial stability of the club and Shinawatra himself, City pressed on in the transfer market, signing Pablo Zabaleta from Espaynol, Vincent Kompany from Hamburg, as well as the re-signing of Shaun Wright-Phillips from Chelsea; but the shock of the window was yet to come.
1st September 2008: Following a year of uncertainty under Shinawatra, City were bought for the second time in two years. On 1st September 2008, it was announced that the club had been bought by Middle Eastern group ADUG. The takeover resulted in City being labelled 'the world's richest club', and with that title big changes were about to be made. As the transfer window remained ajar for but a few hours, City began the search for a marquee signing that would surprise everyone. During an evening full of rumours, it was eventually announced that the club had acquired the services of Real Madrid's Robson de Souza – or 'Robinho' as he was commonly known. So, who was he, prior to joining City?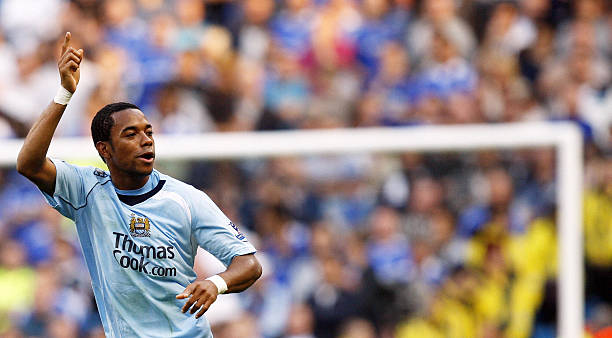 Who Was Robinho?
In the state of Sao Paulo, Brazil, Robson de Souza was born on the 25th January 1984. Robinho spent his earlier life playing football for Santos' youth team. At the age of 15, Brazilian legend Pele declared Robinho to be his 'heir'. This obviously increased attention on the young Brazilian, who made his debut for Santos as an 18-year-old. Over the next three to four years, Robinho played 180 times for Santos, scoring 81 goals. During this time, the Brazilian also made his international debut for Brazil in a match against Mexico at the Confederations Cup. Robinho went on to appear for the national side a number of times before his eventual move to Europe.
In July 2005, Robinho joined Real Madrid from Santos in a deal worth €24million. During his three seasons at the club, the Brazilian international made 135 appearances, scoring 35 goals. In the summer of 2008 though, Robinho's exit from the club looked more and more likely. Rumours circulated that the Real Madrid forward may have been on the verge of signing for Chelsea; however, it was another club in blue that acquired his services.
His Time at City
On the first day of September in 2008, following Manchester City's takeover, Robinho signed for the club in a £32.5million deal – at the time, a British transfer record. The deal signified a new era in City's history. Whilst it wasn't everyone's cup of tea; City had commenced a period of time that would see them spend copious amounts of money in the coming years. The club was criticised heavily for its spending on big players, of which Robinho was the first. Amongst the City fans though, the excitement that came from signing an international superstar had been unparalleled in the years prior to Sheikh Mansour's lucrative takeover.
Robinho's debut came against none other than the side he was so heavily linked to prior to joining City – Chelsea. There was a buzz around the stadium. A new era had begun. Were City to be immediate contenders? Would they be able to topple one of the league's best sides with a player of Robinho's stature on board? The answer to both questions was no. The game wasn't without its drama though. With the scores level, City were given a free-kick on the edge of the area. Robinho stood over the dead-ball, despite not really ever being a dead-ball specialist in his career. Every fan in the stadium must've been thinking the same thing – how perfect would it be if Robinho were to bury this, on his debut, against the club he so nearly joined? Unfortunately, most of the time in football, such perfections don't occur – this however, wasn't one of those times. Robinho stepped up and with the help of a deflection, planted it in the bottom corner. The stadium erupted; an explosion of delight, optimism and excitement. Unfortunately for City, it wasn't to be in terms of a result. Chelsea turned the game on its head and emerged as 3-1 winners, but for City, there was still a buzz amongst the supporters – we had something special.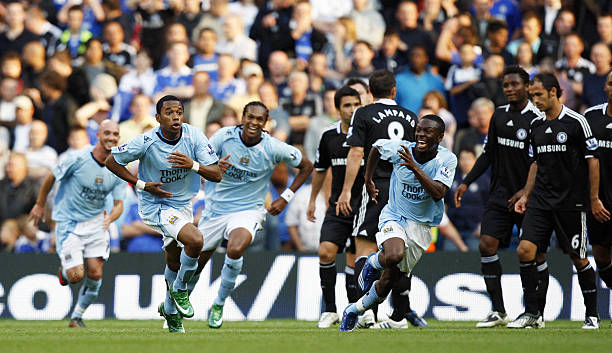 One of the highlights of that season came in a home game against Portsmouth, in which our new signing Robinho shined. It was a day for the Brazilians, with new striker Jô scoring his first and only Premier League goal for City. Robinho also got on the score-sheet as well as treating the City faithful to a host of skills, flair and tricks. This game however, was one of only a few high-points in a campaign that flattered to deceive on many an occasion.
On 26th October 2008, Robinho enjoyed perhaps his finest game in a City shirt; the Brazilian scored his first hat-trick in England. More goals followed, and Robinho ended up with a decent tally of 15 in his first year in English football. Not only was the forward responsible for goals, but aided in an emergence of form for Irish midfielder Stephen Ireland.
The 2009/10 campaign wasn't quite as productive for Robinho. Missing a big chunk of the season through injury, he only managed twelve appearances – scoring just one goal in an FA Cup tie away at Scunthorpe. In the January of 2010, the Brazilian sought a deal way from the club after only 53 appearances and 16 goals.
Robinho had been phenomenal at times in his debut year for City, but unfortunately showed a lack of consistency that had partly explained why Real Madrid were willing to allow him to leave. Despite this, the Brazilian's arrival at City shouldn't be downplayed in importance. He paved the way for future talents to arrive, showing the footballing world that City meant business, and weren't afraid to pay top dollar for talent. Robinho maintains a good relationship with the club and the supporters, having appeared in nostalgically fueled videos whereby he has discussed his time at City as being a positive period in his career. It may have not quite worked out on the pitch, but the signing of Robson de Souza truly was a landmark moment in not only the club's history, but also the Premier Leagues.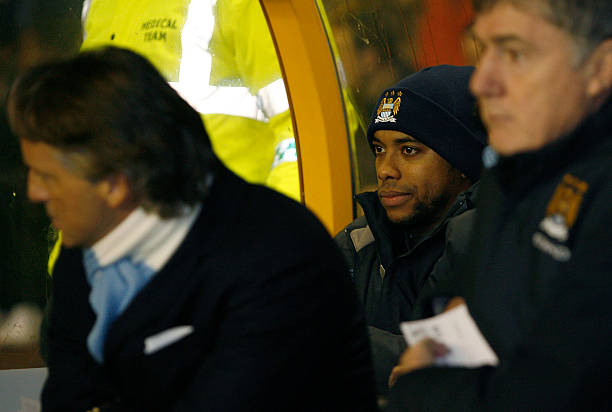 Life after City
Robinho returned to Santos in the January of 2010, where he played on loan from City until the conclusion of the 2009/10 season. The Brazilian found his goalscoring touch again in his home country, with 11 goals in 22 games, winning the Copa Brasil along the way.
In August 2010, Robinho's permanent move from City was finalised. AC Milan paid £15million for the forward, where he spent four seasons. After making 144 appearances for Milan, scoring 32 goals, Robinho was again loaned to Santos, where he played for another year.
In July 2015, Chinese outfit Guangzhou Evergrande signed Robinho and later went on to win the Chinese Super League. Robinho's time in China was brief, scoring just 3 goals in 11 appearances.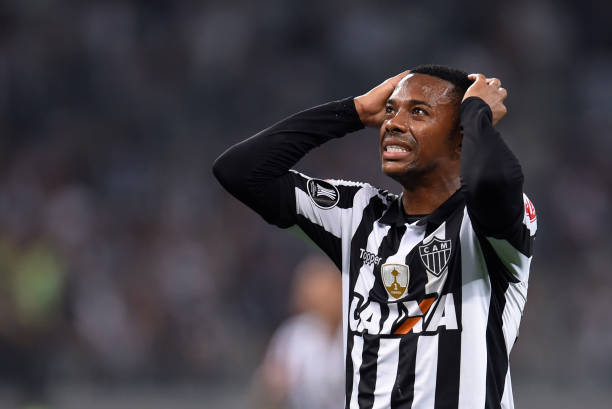 Finally, in February 2016, Robinho returned to Brazil to sign a contract with Atletico Mineiro. The Brazilian settled quickly, scoring 25 goals in his debut year. Robinho still resides in Brazil and continues to play for Mineiro having turned 33 last January.
Internationally, Robinho has maintained involvement with the Brazilian national team throughout his career. Having been capped 100 times, he's managed to score a credible 28 goals at international level.
With Robinho reaching the back-end of his career, he has many accomplishments to speak of during his time in football. In Europe alone, he was part of three title-winning squads, twice with Real Madrid and once with AC Milan, as well as winning a host of trophies in Brazil. He was part of the 2007 Copa America winning Brazil side, and has two Confederations Cups in his time, in 2005 and 2009.
A highly decorated footballer, Robinho will forever be remembered fondly for his time at City; not only for what he achieved on the pitch, but also due to the importance of his signing, which was the catalyst for a period of continued success at the club.