An enigma. A maverick. A legend. A liability.
Just some of the words used to describe Mario Balotelli. In August 2010, Manchester City were on the lookout for new, exciting talent in an attempt finally break the club's silverware duck. They decided to take a chance on a player that was known for having a wide range disciplinary problems, but also possessed a rocket of a right foot and a skill set unmatched by all but a few of the young talents in world football.
The 2009/10 season had been a disappointment – but only just. After sacking the hapless Mark Hughes earlier in the campaign, City turned to Italian manager Robert Mancini – the winner of no less than three consecutive Serie A titles with Inter Milan. Mancini negotiated a tricky a situation to put City into the race for Champions League football, however an agonising home defeat in the penultimate game of the season meant that the Blues would have to wait another year before jumping into bed with Europe's elite clubs.
Following the acquisition of one Mario Balotelli, City would go on to achieve great things in the 2010/11 campaign, but before we look at that, let's take a look at who Mario was before joining City.
Balotelli was born in Palermo, Italy on 12 August 1990. His parents were Ghanaian immigrants. However, due to financial troubles, the then Mario Barwuah moved into a foster care arrangement which saw Italian couple Silvia and Francesco Balotelli look after him. Following a stint of temporary fostering, the arrangement became permanent.
Balotelli began his footballing career at Italian side Lumezzane, where he broke into the first-team at the early age of 15. Before long, larger Italian clubs showed interest in the youngster, and in 2006, Balotelli was signed by Internazionale. Mario's time at Inter was often marred and showered in controversy. Despite many goals for the Italian giants, the promise of another incident was never too far away from Mario. He was publicly criticised on numerous occasions by manager Jose Mourinho, who said after a game with Roma that Balotelli's rating 'came close to a zero'. His training level was also called into question by the Portuguese manager. Still though, Balotelli continued to make a name for himself for the right reasons too. The Italian maverick was to score 28 goals in three seasons at Inter, which is a particularly impressive statistic when you consider the player's age at the time. Nonetheless, Mario couldn't keep his head down for long enough to reap the praise of the Inter fans. In March 2010, he was shown on Italian television holding up an AC Milan jersey – a particularly foolish move when you consider the rivalry between the Milan sides. It was all coming to an end for Balotelli. Such controversies perhaps made it unsurprising when the young Italian striker finally completed his move to City in the August of 2010.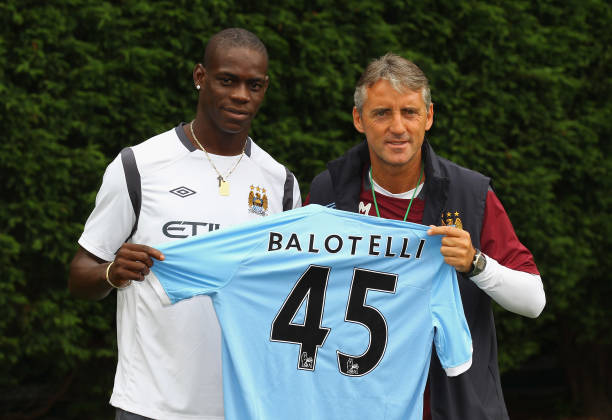 When you sign a player of Mario Balotelli's reputation, it's impossible not to concern yourself with the problems that may lie ahead. However, when a player with three Serie A titles and a Champions League medal turn up, you tend to suppress it to the back of your mind.
Balotelli's first games for the club were the epitome of bittersweet. On 19 August, during his debut, he was to come off the bench to score City's only goal in an away leg at Politehnica Timisoara – a club that later dissolved in 2012. Unfortunately though, Balotelli also suffered an injury in the match which would lead to him being sidelined until October – more time to wait for the City fans who were eager to see their new man in action. He was finally introduced for the first time in Manchester in a disappointing 3-0 defeat against Arsenal, a game in which City were to reduced to ten men very early in the game. On 7 November though, Balotelli truly arrived in the Premier League, in both the most negative and positive way. City travelled to The Hawthorns, and were 2-0 up before half-time thanks to a brace from Balotelli. After the half-time break though, his fortunes changed somewhat. Mario received a straight red for a clash with Youssuf Mulumbu.
Mario's season continued to provide moments of controversy, with the occasional sprinkle of ability that promised a world-class future for the striker. In December 2010, he received the Golden Boy award. However, in true Mario fashion, his winning of the award was marred slightly by his own controversial claims that he had never heard of runner-up Jack Wilshere. Mario scored a hat-trick at home to Aston Villa in the same month, three goals that included a spectacular bicycle kick. However, his next dismissal wasn't too far away, and in a vital home leg with Dynamo Kiev in the Europa League, he was sent off for a high kick to the chest of an opposition player. City won the game 1-0, but went out of the competition on aggregate. Nevertheless, Balotelli was scoring goals along the way. He added a vital strike to his season tally with an unorthodox, but fantastic finish against Aston Villa in the last 16 of the FA Cup.
Balotelli would go on to lead the line against United in the semi-final of the competition, a game that City famously won 1-0. He then did likewise in the final against Stoke City. The Blues were to end their 35-year wait for a trophy with another 1-0 win, with Mario earning the man of the match award. City were to finish 3rd in the league that season, finally entering themselves into the Champions League. This feat, ironically, came after a home victory against Tottenham, a year after the North-London club had beaten City to prevent us from finishing 4th. All in all, a decent year for Balotelli who finished with 10 goals in 28 appearances. It was his next year at the Etihad Stadium though that would prove to be the most successful.
In 2011, City had established their new goal: to win the Premier League. Balotelli played a pivotal role in this attempted feat. He scored a vital opening goal at home to Everton, followed by a celebration in which he embraced his manager, Roberto Mancini. It was a game at Old Trafford on the 23 October 2011 though, that would prove to be Balotelli's most memorable moment for City. City and United had both set the tone for the season ahead when the two sides met. City were hoping to show United how far they'd come in recent years, United wanting to squash City's rise before it could begin. It was Super Mario who would prove to be most decisive in the game though. In the first half, with the game deadlocked at 0-0, Balotelli calmly stroked a ball into the far corner of the United goal in front of the Stretford End. An iconic celebration followed, as Balotelli pulled his shirt over his head to reveal an undershirt reading 'Why Always Me?'. He would later go on to score the second goal in the game too. City were to run riot and eventually won the game 6-1. Balotelli's performances were beginning to be recognised more and more nationally, although controversial moments were still only ever a stone's throw away. Rumours began to run rampant over the back (and sometimes front) pages of every national newspaper you could think of. Was Mario giving money to the homeless? Did he confront a school headteacher to discuss bullying? Did he set fireworks off in his own bathroom? Who knows what was true and what wasn't, only Mario I guess.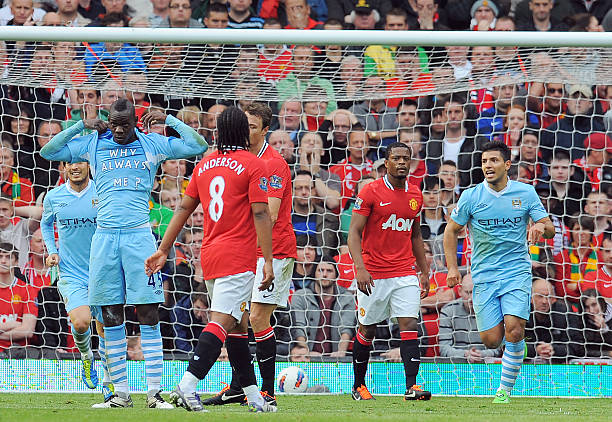 He continued to score goals aplenty in the 2011/12 season, some of which would be vital in the eventual conclusion of the title race with United. Another bittersweet moment came for Balotelli in January 2012. After scoring an injury-time penalty to win an integral game against Tottenham, Mario was later charged with violent conduct for a stamp on Scott Parker's head. He went on to score more goals in the run up to the business end of the season. Two strikes at home to Sunderland saved City from a first home defeat of the season, and in hindsight, this would prove to be another vital point in the ultimate conclusion of the title race. He was sent off for the third time in the season at the Emirates Stadium in April, this in addition to his violent conduct charge following his altercation with Scott Parker. Roberto Mancini suggested that Balotelli would play little to no part in the remainder of the season. There was however, room for one more moment of importance from Mario. On 13 May 2012, Balotelli was to come on as a substitute in City's final game of the season. With the Blues 2-1 down and needing a win, Mario played his part in the historic comeback in Premier League history. Despite not scoring, Balotelli waited until the 93rd minute in the final game to record his first and only Premier League assist for City. That assist? A pass to Sergio Aguero, who burst the net and ended 44 years of waiting for the City faithful. Balotelli ended the season with 3 red cards, a violent conduct charge and 17 goals as City won the title.
Balotelli's third season at City proved to be his last and his most disappointing by far. After just 3 goals, Mario moved on loan to AC Milan where he would enjoy a successful first four months back in Italy. It was disappointing however, for the City fans who had hoped to see Balotelli mature into the player his potential had always promised. Disciplinary concerns had become a prevalent feature in Mario's career with City, and ultimately Roberto Mancini decided that his future was best served away from City. So, what next for Mario?
Following his move to Milan, Mario would go on to score 30 goals in just 54 games for the Italian club. His time at Milan has proven to be one of (so far) his most clinical periods in professional football, averaging over a goal in every other game. In 2014, rumours of a shock return to England began to surface with Liverpool the interested party. He eventually completed a £16million move to the Merseyside club. However, he would enjoy his time in Liverpool very little. Scoring only 4 goals in his solitary season at Anfield, Balotelli was loaned (again) to AC Milan. Another unsuccessful year was to follow though, with Mario scoring only 3 goals on his return to Italy. In August 2016, Balotelli moved on a free transfer to Nice, where he still resides. In his debut season he returned to goal-scoring form with 17 goals. His time in France hasn't been without its ups and downs though – in true Mario style.
With 33 caps to his name, Balotelli is a recognised Italy international too, though his involvement with the national team has tailed off somewhat since his days at City. Despite his 13 goals, he hasn't represented Italy since 2014, although at 27 years of age, time is still on his side.
All in all, Mario Balotelli has endured a controversial career, whilst remaining a forward with a keen eye for goal and an ability to change a game in a second. His time at City was perhaps short-lived to some, despite his many suspensions. However, his assist for perhaps the most important goal in City's history leaves him cemented in City folklore forever. He is remembered fondly by the fans and is regularly spoken about and supported on social media. Balotelli's relationship with the club too has proven to be that of a positive one. He regularly declares his support for City, and recently conducted an interview outlining his involvement and thoughts on City's title win in 2012. Super Mario will be remembered as an icon during the Roberto Mancini era at City. His allergy to grass only hindered him the once, and whenever he played he was… very good. And who knows? Maybe he'll even return one day.
Thanks for everything Mario, and good luck.