At City Watch, we try to keep you up to date with everything City-related. And with City fast reaching a global status and the City Football Group buying up more clubs than Jay-Z, there's a lot going on at any given moment.
So as two self-proclaimed senior writers at City Watch, we decided upon a weekly dual-round-up of all the issues we think you should care about. That's right, Anis Bazza and Adam Bailey will be talking about Benjamin Mendy's tweets, Kun Aguero's reported unhappiness or a structural formation change that could potentially isolate your favourite player. Just know that we've got it covered.
This week saw Manchester City kick-off their highly anticipated 2017/18 season and take part in the most pointless of pointless friendlies. A rewarding win at Brighton followed a summer of extraordinary spending that prompted Pep to bring back the back three formation for the first time since City shipped four goals to Leicester. But what are the ramifications of such signings and what does the change of the system mean for some players? We might have the answers..
Anis: Has the back three formation isolated Raheem Sterling and Leroy Sané?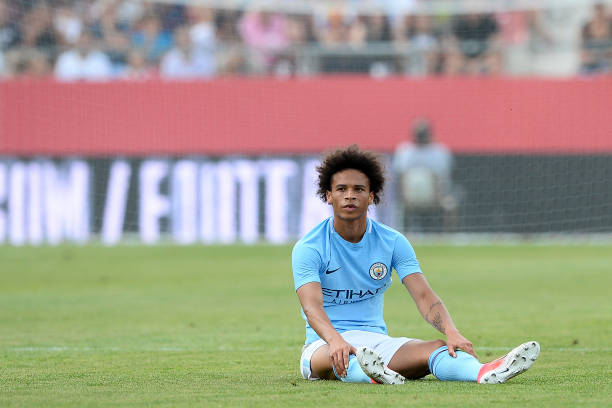 Few expected Pep to return to the back three he deployed in November and December of last season. The performances weren't bad to say – in fact City were incredibly dominant in a number of games – but the results certainly were. Draws against Everton and Southampton and a demoralising defeat to Leicester ensured plans for a trickier system were shelved.
Interestingly, Pep didn't play wing-backs in those teams but rather wingers beside the striker. It made for wacky looking formations and unusual roles for the wingers at the time, Sterling and Navas. The back three that's been deployed recently might be a lot more conservative for Pep's liking because there are wing-backs with actual wing-backs playing in those positions but ultimately City look a lot better for it. The defensive structure is solid and our much-marginalised centre-backs look secure. But where does that leave SAS? Sterling has settled for an attacking role from the bench while Sané – who is still not yet comfortable in central positions – has settled for a reserve left wing-back role. Hardly the most glamorous position for the two stars of last season, is it?
Pep might change the system again but what if he doesn't? Leroy Sané's development will stall while the signing of a star striker will effectively make Sterling our fourth striker. One thing we do know for sure is that Pep Guardiola is a coach full of surprises…
Adam: Kyle Walker's impact
It was incredibly disrespectful of Mauricio Pochettino to publicly suggest Kyle Walker's best days were over just days after the Spurs man completed his £50m move to City. A couple of weeks, a couple of digs from Danny Rose and a couple of big-money bids for Ryan Sessegnon and Davinson Sanchez later, it's clear Poch's comments were laced with bitterness; more acidic than grapefruit vinegar.
I sympathise with him. After all, the Argentinian has lost last season's outstanding full-back, a player equipped with the bolt-like speed essential for taking the team forward and retaining the ball deeper in his own half. Kyle, Man of the Match on his City Premier League debut against Brighton, certainly had a better weekend than Usain. Pablo, forgive me, but in Walker City have shipped in a top-of-the-range model programmed physically and mentally to execute Pep's demands with precision. And with Mendy still yet to occupy the opposite flank, I'd say Walker's best days are in front rather than behind him.
Anis: Eliaquim Mangala or Jonny Evans?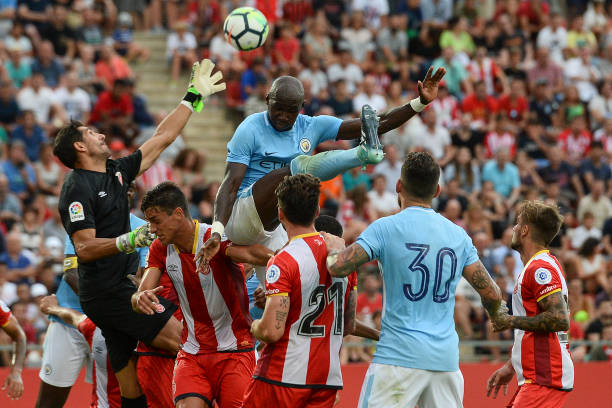 Eliaquim Mangala hasn't exactly rose from the ashes to be in contention for this City squad (he was actually really good at the back-end of his previous season at the club) but it's certainly not to be expected. He might not seem like the ideal Pep Guardiola center-back but Pep Guardiola and his ideals aren't a fixated vision with no room for manoeuver. If Pep can go into a season with a 34-year-old Touré at the helm of his midfield then there's certainly room for our lovely French goon.
And so to Jonny Evans. He might not scream exotic continental modern defender but scratch the surface a little and you'd be surprised at the skill-set Evans could offer this threadbare Manchester City defence. Evans might only be remembered for one moment by City fans but many United fans still remember his consistent performances, how he replaced Vidic to help United win the title in 12/13 and his composure on the ball. He's played everywhere for West Brom including in midfield and I'm not ashamed to say I've always rated him.
The only question remains is whether the quoted £20-odd million fee is the difference between landing that star forward or not. If City can still pull Kylian Mbappe or Alexis Sanchez out of the bag then I'm all for signing Evans. If we can't, then bring on another season of Big Quimmy Mango.
Adam: Reaction to Benjamin Mendy's tweet
They say boxing is a gentleman's sport but Conor McGregor never listened to the rules. McGregor's disregard for etiquette is what makes him perhaps the most entertaining sportsman on the planet and an individual that the general public cannot help but be compelled by. Sure, conduct yourself respectfully once inside the ring but what happens outside of it should be, within reason, without limits.
Football today is too nicey-nice. The hand-shaking, the post-match praise of Tony Pulis's 'great tactics'. Wouldn't it be refreshing to hear Pep call Jose a tit every now and again? As Benjamin Mendy found out on Saturday evening, close-to-the-bone banter across social media platforms is considered to represent an unforgivable lack of respect, an ill-advised jumble of words and emoticons that may come back to bite you in the future.
After tweeting 'bullet header' in response to Lewis Dunk's own goal against City, Mendy was accused by BT Sport pundits Steven Gerrard and Frank Lampard of being 'disrespectful' to the Brighton defender. So disrespectful was the Frenchman's tweet that it demanded its own lengthy segment in BT's post-match analysis, boring its audience to tears. Mendy, still yet to make his debut for City, has already warmed himself to Blues through his banterous online persona and characters like himself should be celebrated rather than brought back down to earth. Mendy's tweet was merely a playful jibe that should be deemed healthy among fellow professionals, not an act of disrespect deserving of punishment.