Inside the Opposition: Hoffenheim vs. Man City (Predicted XI, Manager & Team, Opposition View) – City Watch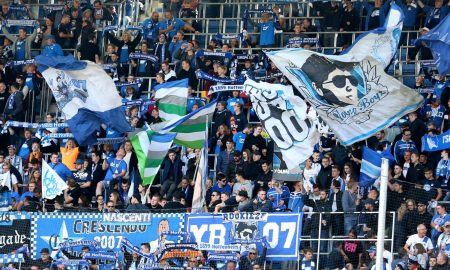 After a disappointing result to Lyon a fortnight ago, Pep Guardiola will be desperate to shut down his run of four consecutive defeats in Europe. Doing so would require a result against a team with just one win in their last five games as his team travels to Hoffenheim in the second Champions League fixture of the season.
The German side drew 2-2 with Shakhtar Donetsk in their opening game, holding their own against the Ukrainian champions – the same side that inflicted the first defeat to City in our current run of losses. The fact that they, therefore, sit 1 point ahead of us in the group table adds that much more gravitas to the fixture. In addition, manager Julian Nagelsmann insisted that the game means much more to Hoffenheim than many would have first thought.
"It's the biggest game in the history of the club so everyone is extremely hot, extremely motivated.
"For every player, it's a dream to play in the Champions League," he said. "We had the massive game against Liverpool last season in the qualifier – you couldn't believe the buzz in this region. Now the game against Manchester City is even topping it."
They currently sit tied for 11th in the Bundesliga, following a 2-1 defeat to RB Leipzig – the team that Nagelsmann will go on to manage next season. The 31-year-old has spoken with relative confidence going into the match.
"When Guardiola was managing Bayern, he didn't like coming to Hoffenheim – it was very difficult when he came here. He'll remember that. He knows this stadium and what to expect."
"It's a bonus game. We don't have much to lose. Everyone sees them as the big favourites. But the whole world saw them as big favourites against Lyon and Lyon hurt them really badly even at City's ground."
Here's a bit more information on the club, the manager, and what we can expect from tomorrow night.
The Manager
Julian Nagelsmann, regarded as one of Europe's most promising managers, is leading Hoffenheim into their first ever Champions League campaign. Having been knocked out by last season's finalists Liverpool in the qualifying round, he finished 3rd in last season's Bundesliga, edging out Borussia Dortmund and Bayer Leverkusen.
Seen as one of a new breed of managers labelled 'laptop coaches', the dynamic and innovative tactics heralded by Nagelsmann have caught the eye of many European pundits. He returned from a failed playing career due to injury to help coach Augsburg under Thomas Tuchel, before taking over as Hoffenheim's under-23 manager.
Afterwards, he became the first-team coach and saved the team from relegation into Germany's second tier by winning 7 of his remaining 14 games, before taking the struggling club into 4th place the following season.
Nagelsmann has been praised for his effective man-management and motivational skills, having said in the past that football management is "30% tactics and 70% social competence." This, as well as his dynamic and high-pressing tactics, have earned him comparisons to fellow German Jurgen Klopp, perhaps to the dismay of City fans going into tomorrow's game.
The Team and Predicted XI
Hoffenheim's typical formation involves three central defenders, a defensive midfielder, 2 energetic wingbacks, a midfield pair, and two strikers.
The team can play in a 4-3-3 formation, but the fearless Germans may feel perfectly comfortable keeping their preferred shape and sticking to their attacking philosophy.
Oliver Baumann should start in goal, aiding Hoffenheim's patient build-up play with his excellent distribution. The three-man defence will be missing talismanic captain Kevin Vogt, a crucial centre-back who originally signed as a midfielder and helps their build-up play by receiving the ball in the middle of the pitch. The 27-year-old's absence may allow City to create central overloads in around 30 yards from goal, where Bernardo Silva, David Silva, or Ilkay Gundogan can create opportunities to score.
However, the 5-at-the-back system aided by a defensive midfielder allows Hoffenheim to implement a fantastic press in a 'pendulum' motion: the stability of the back three allow one wingback to join the forward press on City's defence and midfield while the rest of the backline shift over and cover the space left.
In possession, expect to see the three midfielders – potentially Florian Grillitch, Leonardo Bittencourt, and Andrej Kramaric – push wide and forward, playing with the two strikers and utilising layoffs from the frontmen following passes from the defence. The stability of the back six should allow the front four more freedom.
Those strikers will push wide between the centre back and fullback in an attempt to make space for midfield runners. Perhaps they will take advantage of young Oleksandr Zinchenko to create space on the wings, aided by a brigading right wing back.
Opposition View
I also spoke to Bundesliga fan and editor of Bundesliga Fanatic Mathew Burt about tomorrow's opponents.
What do you think of Hoffenheim's start to the season? Would you consider them to be underperforming?
Hoffenheim have struggled to get going this season. Losing to Bayern Munich on matchday 1 was excusable, but they've also lost to newly promoted Fortuna Düsseldorf and this weekend to RB Leipzig. You'd have to say that compared to last year (when they beat Bayern early in the season) they are underperforming at the moment.
How far can Hoffenheim fans expect Nagelsmann to take them this season, both domestically and in Europe?
Domestically it could be quite difficult for Nagelsmann to match the achievements of the past two seasons. Finishing fourth in 2016-17 and then third last season was a fantastic achievement for a club of Hoffenheim's size (Sinsheim population-35,000). Losing to Liverpool in the Champions League play-off was a real blow and they didn't recover in the Europa League finishing bottom of a relatively easy group behind Braga, Ludogorets and Başakşehir (one win) so their Champions League adventure this season could be a painful one.
What are you expecting of Nagelsmann at Leipzig?
Leipzig have pulled off a real coup getting Nagelsmann. Talk of him joining either Bayern or Dortmund wasn't out of the question. RB mean business and have a policy of only buying young players so it seems a good match.
It looks as though Kevin Vogt will miss the game tomorrow – how big of an issue is his absence?
Kevin Vogt's absence is a real problem. They already have a long list of missing defenders (Adams, Bicakcic, Hübner and Nordtveit were out at the weekend), but he is the key man at the back. If there is one team they need him for it is City. There is even talk of Nagelsmann having to draft a defensive midfielder like Florian Grillitsch into the back line.
What are your predictions for the game?
I'm a great fan of the Bundesliga and have a lot of time for Hoffenheim, but I've also seen what City can do to teams with their attacking talent and I fear for Hoffenheim to be honest. Julian Nagelsmann never faced Guardiola when Pep was at Bayern, and he may not enjoy his first meeting. I expect a City win, and Hoffenheim will do well to keep the score respectable.